Written by Avery Bohman, 577 Program Intern
This is part 2 of my final Earth Month Blog series: 577's Behind-the-Scenes Conservation Efforts. If you missed part 1: The Diversity of Environmentalism, click here.
At 577, cultivating sustainable and environmental practices in our work is a must. There is a plethora of conservation efforts we make as we strive for a more sustainable and earth-friendly environment. These efforts include Virginia Secor Stranahan's passion and foresight, the natural landscape designs installed by the Properties team, various tech specifications that save energy, and even the people we meet along the grounds every day.
Curious about the way 577 staff care for and protect our beautiful grounds and buildings? This article will explore more in-depth some of our behind-the-scenes conservation efforts. Plus, the final section of this blog announces the launch of a special project we are doing this summer: installing a recycled bottle cap bench. Read on to learn how you can help!
CONSERVATION EASEMENT
The 577 Foundation was established by Virginia Secor Stranahan to carry on her love of teaching, learning, and curiosity. A crucial element of this new learning-based community space was finding a way to preserve her land from future development. She wanted to "keep a corner of Perrysburg green" and "give people a way to get down to the Maumee River." Through this wish, in 1987, The Nature Conservancy confirmed a conservation easement, which would legally protect the land on Virginia's estate forever.
577 was then established in 1988. In 1993, the conservation easement was transferred to the Black Swamp Conservancy, a local conservancy organization founded four years prior in 1989 by Virginia and other local conservationists. Virginia's preservationist values have kept this piece of Perrysburg green for 35 years, giving the public an opportunity to experience a connection with nature. Her dedication to a land protected from development and surrounded by sustainable practices continues to inspire us today.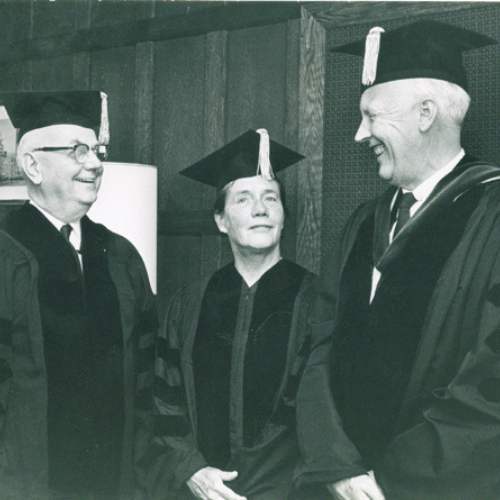 CONNECTIONS
Long-term conservation and sustainability must start with the connections you make with others. 577 participates in a lot of outreach events and programs to foster good relationships with other organizations and communities. Bridging these connections allows us to help others and give back. We donate local produce to organizations and food kitchens dealing with food insecurity, such as Perrysburg Christian United Food Bank and SAME Café. This ensures that little produce goes to waste. This past February, 577 donated seeds to the ToledoGROWS Seed Swap, an event where local businesses, organizations, and farmers, come together to donate and trade their seeds with each other. This builds community and gets people to share gardening and harvesting information.
The raised beds that surround the Geodesic Biodome are for our community gardening program, which gives community members the opportunity to start a small organic garden void of chemicals or synthetic fertilizers. This fosters gardening skills and conversations surrounding sustainable gardening practices, as well as reduces fossil fuels and promotes higher nutrition through local organic produce. There are 52 active plots this year, with three newly added accessible beds. 577 also enjoys and appreciates the volunteers who help us around the grounds with our gardens and in the Welcome Center & Curiosity Shop with donations. These people truly make a difference!
Additionally, we have a few staff members who teach conservation and gardening classes each month. Samantha, 577's Organic Garden Horticulturist, and Bennett, 577's Organic Landscape Horticulturist, share their knowledge and interest in sustainable forestry, organic garden planning, conservation issues, and more, hoping to instill a love and curiosity of nature in others. We also encourage our community instructors to make their classes more sustainability-minded, by banning the use of Styrofoam and glitter. Other examples include reusing paper if possible and opting to use the reusable dishes that are provided in the buildings rather than single-use items. Even outside of the classroom, we promote conservation ideals to visitors around the grounds and through other events and programs. The interactive Children's Nature Playscape also fosters the exploration of nature and wildlife in children. Virginia once said, it is "a space that fosters a naturally occurring educational process within the ever-curious child." 577 is constantly building a community of all ages through sustainability and conservation!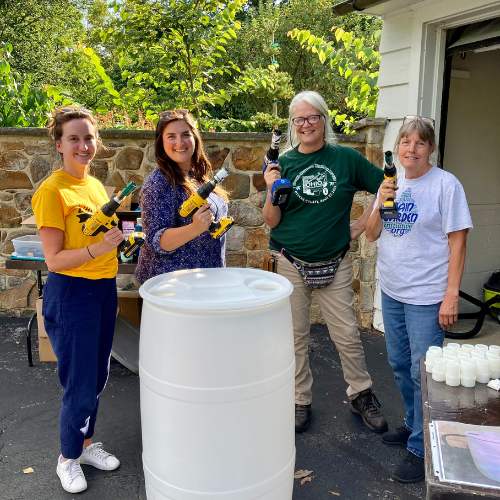 LANDSCAPE DESIGN
Planned and managed by the Properties team including two organic horticulturists, the grounds of 577 are designed with sustainable and natural landscape elements. There is an assortment of projects and landscape designs that look beautiful while also serving a purpose. The goal is to use design elements that incorporate materials and areas that might otherwise be wasted.
A great example of this took place this past winter. The Properties team began clearing an area of invasive buckthorn and other dead trees behind Virginia's House. Instead of throwing the sticks in the compost or in the refuse container, they used them to make a serpent-shaped brush wall in the orchard. The purpose of the "dead hedge" in the orchard is to repurpose unwanted brush on the property and reuse natural materials. Another example of this is the wall of wood logs near the Bird Blind that provides a habitat for bees, beneficial insects, birds, and critters.
Soil is also an important component of our landscape at 577. For natural, free mulch, we use donated leaf mulch from the city of Rossford each fall. We also utilize an onsite compost pile that produces nutrient-enriched soil used to replenish many of the garden areas. This ensures a healthy lifecycle for excess garden scraps we accumulate.
577 has many preventative measures that specifically address water-related issues. These include our rain gardens, water-permeable pathways, and clean water sewer separation. The three rain gardens on the grounds are very important for rainwater management. Rain gardens are sunken beds of native perennials that capture stormwater runoff. The runoff is cleansed of pollution by filtering out pesticides, fertilizers, and other substances. The rain gardens also alleviate some of the work that ditches and sewers take on by providing extra storage for water. And an added bonus: they provide more habitat for wildlife (especially native species) and beautify the space! Water-permeable pathways installed throughout the grounds are another effective method for preventing runoff. These paths catch rainwater as it percolates through the ground, preventing unnecessary runoff.
In August 2022, we received a grant that allowed us to remove clean water from the sanitary sewer. The goal of this project was to direct clean rainwater to the storm line of the river rather than sending it to the water treatment plant. The city of Perrysburg has two sewer systems: the first is the storm sewer system which carries rainfall, and the second is the sanitary system, which carries everything from our homes and buildings (toilets, sinks). By separating these two, we help the environment by ensuring less sewage is dumped into the Maumee River. It also keeps our houses clean and prevents backups. After receiving the Sanitary Sewer Grant, 577 Executive Director Heather Gallant said in an interview: "It's important for us that we continue to serve as a model for the community in being good environmental stewards. This grant gave us the opportunity to express that value and an opportunity to practice what we preach."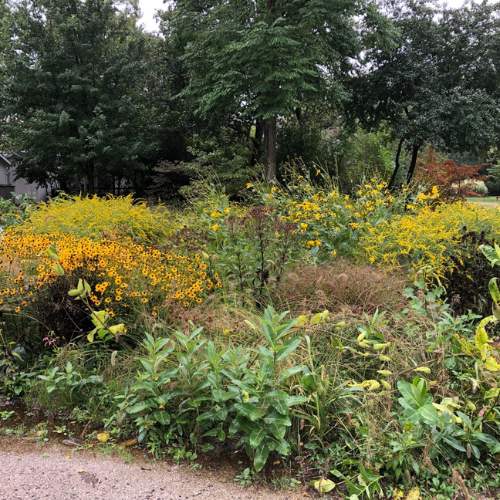 SUSTAINABLE FORESTRY
Sustainable forestry seeks to provide protection to all components of a landscape or forest through various pillars of sustainable management. Instead of looking at an area as a whole, sustainable forestry is concerned with each and every part including trees, plants, wildlife, soil, water, and more. One of our focuses at 577 is to practice sustainable forestry when planning and managing our landscapes.
We strive to make 577 a happy and nurturing habitat for many species. Pollinators are regularly seen on flowers and near beehives, and there are also a few shallow bat houses that encourage bats to come to a safe environment. Since August 2018, 577 have had volunteers raise caterpillars as they go through their lifecycles. As they hatch from pupae into beautiful butterflies, visitors can watch the magic in our "Flutter Hut," on display from mid-summer to late fall. Hundreds of butterflies have been released since the volunteer program began in 2018. There are also six to ten honeybee hives on the ground tended to by a volunteer beekeeper, which provides observation and education on the life and work of honeybees. These bees also perform pollination duties in our gardens, which plays a vital role in helping the plants grow.
Native species are a blessing and a great benefit to our landscapes. There is such a rich number of pollinators each season because of the rotation of native species planted by our horticulturists. These plants and flowers are selected because of their benefits to not only the pollinators themselves, but also other animals, humans, and other species of flora.
Removing invasive species and replacing them with mostly natives to attract more pollinators is also a priority of the 577's horticulturists. Some of the very prolific invasives we see at 577 are honeysuckle and buckthorn, both of which are popular on other properties around the area as well. Bennett, 577's Organic Landscape Horticulturist, has planted native hazelnut, swamp milkweed, coneflower, goldenrod, and redbud trees. The planting of these species creates habitat for pollinators and contributes to the sustainable forestry movement. Another way we create more pollinator habitats is by participating in the "No Mow May" movement. Taking a break from mowing helps early-season pollinators grow because May is a very heavy feeding month for them. Many butterflies, birds, insects, and other pollinators swing through and fertilize the flowers and other plants.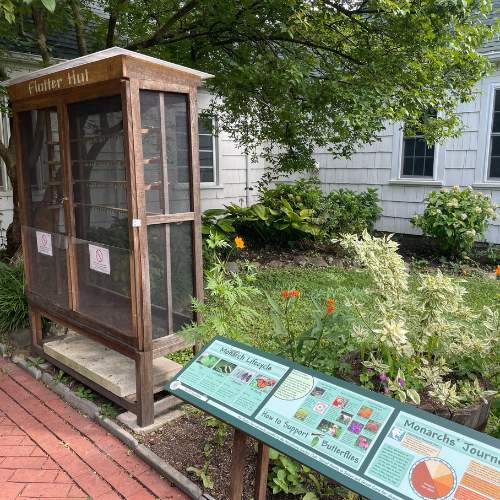 ENERGY
Throughout the grounds of 577, there are several energy-saving systems in place to reduce our overall consumption. Our Assistant Director of Buildings, Grounds, and Technology Mike Mummert has installed an HVAC system that automatically turns off when certain buildings are not occupied. There are also LED lights throughout the parking lots and inside the buildings. Most of our light fixtures are powered by LED light, which cuts down on energy usage and are much safer than other types of bulbs.
Installed in 2016 by GEM Energy with solar panels donated by First Solar, a photovoltaic tracker system tracks the movement of the sun near the Geodesic Biodome. The panels collect energy the sun transmits and convert it to 1020 Watts of electricity, which is enough energy to power the fans and pumps inside the dome. In 2019, students from Owens Community College teamed up with First Solar to build an interactive panel display to help kids learn about solar energy. 577 also has two solar thermal panels located on the south roof of the Pottery Barn. These antifreeze-filled panels heat up and travel through a heat exchanger when the sun shines on them. The energy produced from this process is used to heat the water in the Courtyard bathroom, Pottery Barn, and Welcome Center.
There is a passive solar heating method used in the south greenhouse and Geodesic Biodome. If you've ever noticed, there are a few black barrels along the inside of the dome. The mass of the water inside the barrels absorbs the heat that passes through the walls and heats up the building. The pond is also used as a heat-storage device.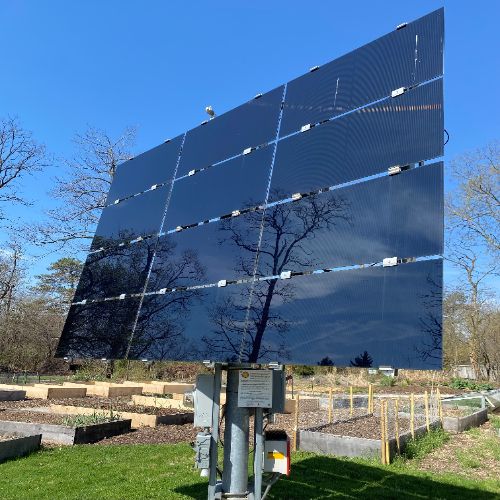 RECYCLED MATERIALS
577 strives to always buy recycled paper products and environmentally friendly cleaning products. Paper products include paper towels, toilet paper, and facial tissues, and the toilet paper is Green Seal and Ecologo certified. This is a credible ecolabel that validates products with sustainability leadership and environmentally based standards. Our cleaning agents are environmentally friendly and have biobased formulas, like the BioRenewable Glass Cleaner, and our staple Sunflower Fresh Hand Soap is formulated with biobased ingredients made from renewable resources. It is a foaming hand, hair, and body wash that is supplied in each building's bathrooms for our visitors and staff.
The outdoor benches and tables across the grounds are made from recycled poly lumber, which is a wood-like product made from recovered plastic. Some of the old products we had on the grounds were actually just repurposed into new paint pallets for the watercolor classes! This reduces landfill waste and repurposes something old into a functional piece that can be used for 577 art classes. We also prioritize recycling a variety of products, like paper, bottles, and cardboard. We provide recycling bins across our grounds and buildings for our visitors and staff.
One of the programs with the largest recycling component is the Welcome Center & Curiosity Shop. Thanks to Greater Toledo Community Foundation's First Solar Community Giving Fund Awards Grant awarded to 577 in 2022, we were able to launch this newly expanded space. The Curiosity Shop reclaims gently used books and craft supplies, keeping these materials out of landfills and putting them in the hands of others at affordable rates. Revenue generated from the Curiosity Shop subsidizes 577's environmental and educational classes, keeping class prices low so that everyone in the community can access them.
When I asked Heather Gallant, 577's Executive Director about the newly expanded Curiosity Shop, she said, "Without this grant from the First Solar Community Giving Fund, we would not have been able to expand the Curiosity Shop into offering reusable art supplies in addition to books, pottery, and plants, nor would we have been able to provide a welcoming space at the entrance of 577 for people to browse, connect, and linger. We are tremendously grateful for the early funding this grant provided so that people have a place where they can feel good about regifting their art supplies and books to others, at a place that promotes conservation and sustainable environmental practices in Northwest Ohio."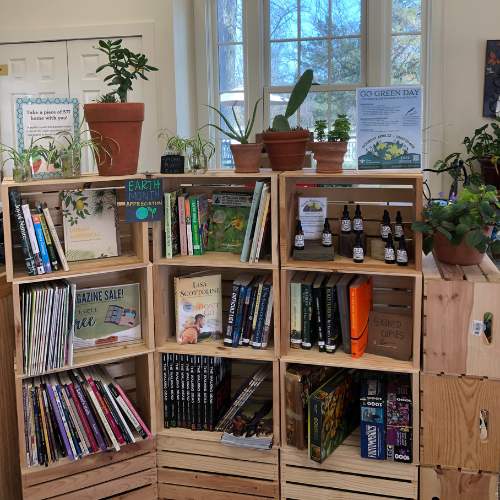 Special Project: Recycled Bottle Cap Bench
On Go Green Day, we launched a campaign to collect plastic bottle caps and lids. With the help of your donations, we will be able to recycle these materials into a beautiful and eco-friendly bench for our grounds. So, please donate your clean 100% plastic caps & lids (non-medical use) during Welcome Center & Curiosity Shop open hours (Wednesday – Saturday, 10am to 5pm) until the end of July. The goal is to have the bench installed by the end of summer. Please note that we cannot accept metal caps, foil or paper on the inside, or dirty items.
Have questions? Please don't hesitate to reach out to me via email at Avery Bohman ~ Programs1@577foundation.org