Gain a deeper understanding of and appreciation for plants and nature with a variety of classes covering topics such as rain barrels, seed collecting, foraging, beekeeping, citizen science, and more. Or learn how to beautify your own home garden using organic and sustainable methods – just like 577! Monthly classes on topics such as how to grow a garden, planting for pollinators, tree care, permaculture, and more are taught by passionate community instructors, local partners, and 577 horticulture staff. Class topics vary each month and are taught in the Geodesic Dome, Virginia's House, Cottage, and around the beautiful gardens and grounds of 577.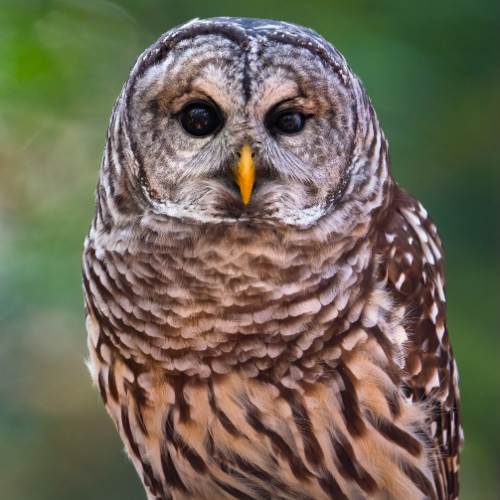 Wildlife Workshop & Photo Shoot
Sunday, December 3 ~ 2pm to 4pm
Gather in Virginia's House to learn about wildlife rehabilitation and the important role local organization Nature's Nursery plays in supporting our amazing native creatures. Students will also learn how they can help the wildlife in their own yards and neighborhoods, and will take home information on what to do if they find an animal in need.
The second part of the workshop gives students the rare opportunity to visit and photograph multiple animal ambassadors who will be stationed with their caregivers across the grounds of 577. Students can choose to practice their photography skills on the animals awaiting their glamour shots or can simply have an up-close visit appreciating the beauty of these creatures.
This workshop is perfect for nature lovers, photography enthusiasts, or anyone looking to gain better appreciation for the creatures who live alongside us every day.
Class notes: Please dress for the weather as students will be walking around the 577 grounds for part of this workshop. Students interested in taking photos of the animals must bring their own photo equipment.
Community Instructor: Jamie Forbush, Education Director at Nature's Nursery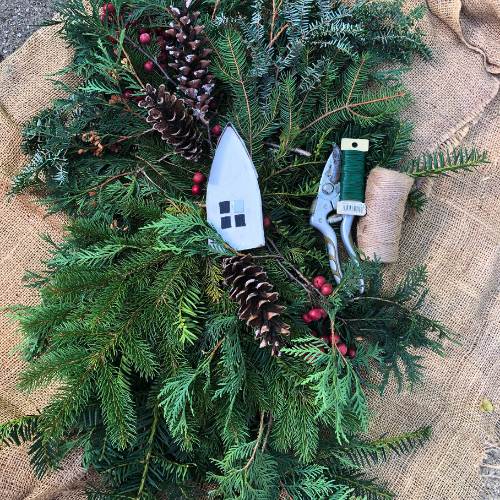 Home for the Holidays: Eco-Friendly Door Swag
Tuesday, December 5 ~ 6pm to 8pm
Wednesday, December 6 ~ 6pm to 8pm
What better way to welcome winter visitors than to hang a decorative swag made of fresh greens on your front door? Starting with evergreen bundles, students will customize their swag with additional natural items such as colorful berries to create a great backdrop for a focal point made of repurposed materials.
The finished product is an environmentally friendly decoration you can hang on your door for the holidays or all season long. All supplies are included. Completed door swags will be approximately 12″ wide by 24″ tall.
577 Staff Instructor, Bennett O. Dowling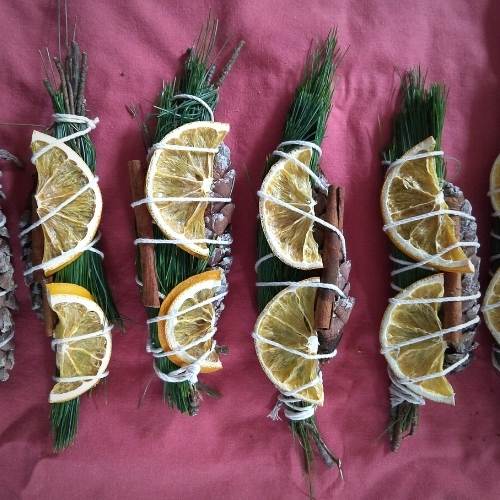 Herbs of the Yuletide Season
Tuesday, December 12 ~ 5:30pm to 7pm
The days surrounding the winter solstice have been celebrated around the world for uncounted generations. This time of returning light – and hope – has given rise to many traditions and stories. As with most important human practices, plants have their role to play. Join us for an evening of myth, folklore, and practical information as we explore some of the herbs most strongly associated with this season.
Please Note: Participants ages 12 to 15 are welcome but must be accompanied by a registered adult/guardian. Participants ages 16 to 17 may participate without an adult.
Community Instructor: Sarah Williams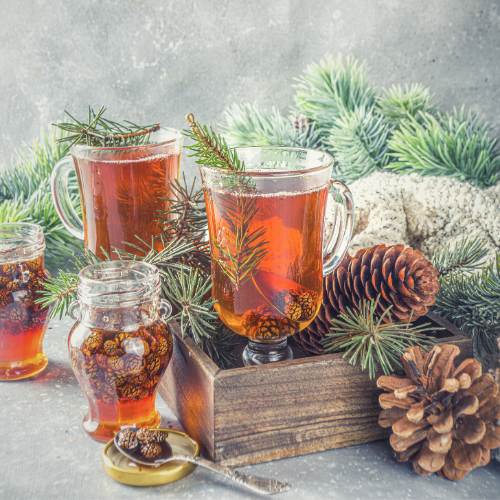 Evergreen Medicine
Saturday, January 13 ~ 2pm to 3:30pm
Spend the afternoon learning about trees such as pine, spruce, and fir, as well as other winter-hardy plants like holly and juniper. Many herbs die or go dormant during the depths of winter, but evergreens, true to their name, thrive and offer medicine through the coldest weather. We'll discuss their many properties and uses, as well as natural history and folklore. If there's time, we'll go for a stroll through the grounds to meet some of these plants in person.
Please Note: Participants ages 12 to 15 are welcome but must be accompanied by a registered adult/guardian. Participants ages 16 to 17 may participate without an adult.
Community Instructor: Sarah Williams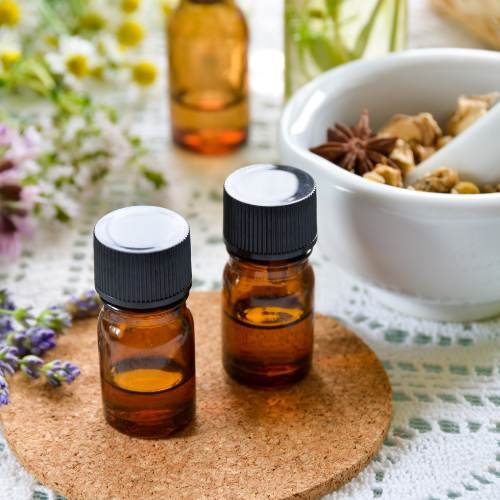 Building an Apothecary
Wednesday, January 17 ~ 5:30pm to 7pm
To bring herbal medicine into our daily lives, we need to have it ready to hand. In this class, we'll discuss a selection of widely useful plants: their properties and applications for issues that commonly occur in the home.
The practicalities of the home apothecary will be covered: location, organization, storage conditions, and contents. We'll also discuss various preparations, such as tinctures vs. syrups; which plants do best with each type, and where to acquire those that you don't make yourself.
Community Instructor: Sarah Williams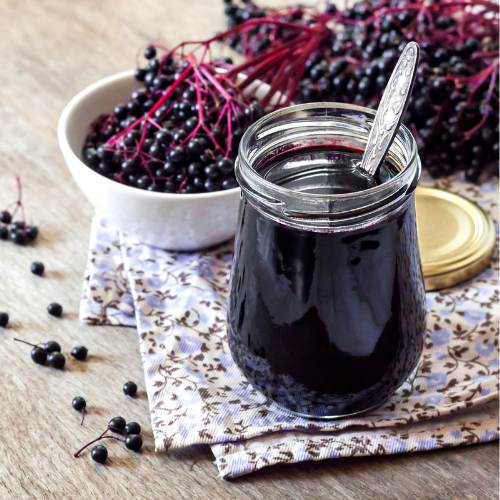 The Wisdom of Elderberry
Thursday, January 18 ~ 6pm to 7pm
Explore the wisdom of nature by discovering the potential benefits of the elderberry plant. Learn how gut health is important for immune function and the best practices for proactively using these berries during the winter months to promote health and wellness.
Everyone will receive an in-class sample of elderberry syrup, informational handouts, and their own elderberry syrup kit to make a pint-sized jar at home. Enjoy learning more about the plants around us and how nature's bounty can support our bodies.
Community Instructor: Lauren Johnson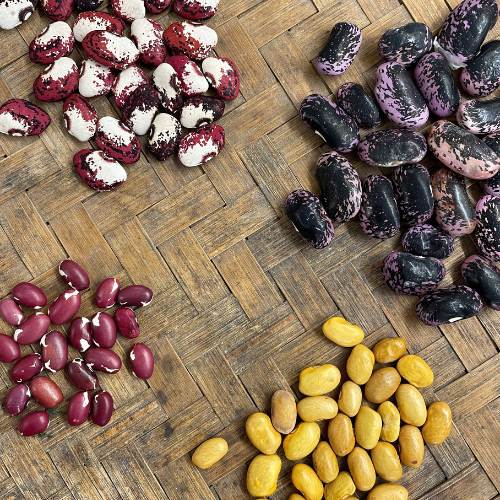 Seed Saving in the Vegetable Garden
Tuesday, January 23 ~ 6pm to 7:30pm
Wintertime is the best time for garden planning. In this exciting new class, learn how a little forward thinking goes a long way when saving your own heirloom or open-pollinated vegetable seeds.
Together, we will learn about and discuss several methods of seed saving, including the basics for common garden vegetables and the altogether different approach of "landraces." Everyone will receive a handout to take home and use while planning their garden.
Get ready to delve into the nitty-gritty of seeds and equip yourself with practical knowledge to enrich your gardening experience.
577 Staff Instructor: Samantha Day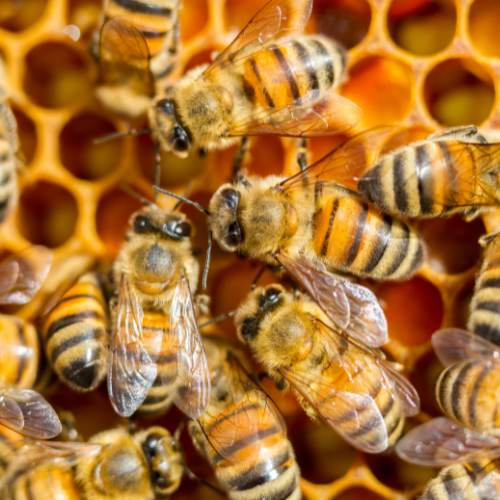 Honeybees 101
Saturday, January 27 ~ 10am to 11:30am
Learn about the amazing world of honeybees. Whether you are toying with the idea of beekeeping, looking for simple ways you can help our local bee population, or just love Apis mellifera, you will gain a better understanding of these amazing and vital creatures.
Learn about the diverse and interconnected workings of a honeybee hive, explore the lifecycle and jobs of bees, see what a year of natural beekeeping looks like. Leave inspired and ready to support bees in big and small ways.
**Please note: This is the pre-requisite class needed for upcoming Beekeeping 101 classes at 577.**
Community Instructor: Sara Brunner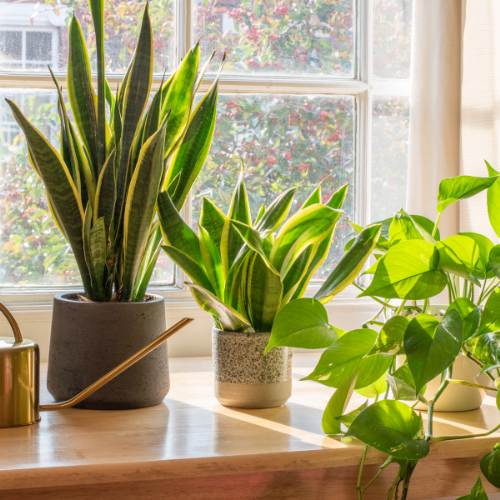 Healthy Houseplants
Tuesday, January 30 ~ 6pm to 7:30pm
"Help! I keep killing my houseplants!" If this is a phrase you have uttered, this class is perfect for you. We are living in the "great age of houseplants," so let's enjoy it by learning how to be better plant caretakers. You can find these green beauties everywhere for great prices, but we bet you didn't know many of those eye-catching plants in the store are not suited for the average home environment.
Join 577's Organic Landscape Horticulturist and " Houseplant Enthusiast" for an evening exploring the wide array of tried-and-true plants, along with some uncommon varieties, that are available and can be successfully kept inside. Enjoy a fun interactive exercise to learn about plant needs and how to place plants within your space. Leave with an informative handout to help turn your black thumb green!
577 Staff Instructor: Bennett O. Dowling
Class Locations & Parking Map
Signed up for a class and need help finding your classroom location and parking? Each class description lists its location. Click the button below to view a full map of the grounds and buildings with two lots available for easy and convenient parking. 
Cancellation & Refund Policy
Because space is limited, we rely on you to register for classes thoughtfully. Please help us continue to offer these wonderful classes as affordably as possible by adhering to the following registration, cancellation, and refund policies.
Photos and videos may be taken during 577 classes and events for use on our website and other relevant media outlets and your attendance constitutes consent. View the full policy below including how you can opt-out of this release.