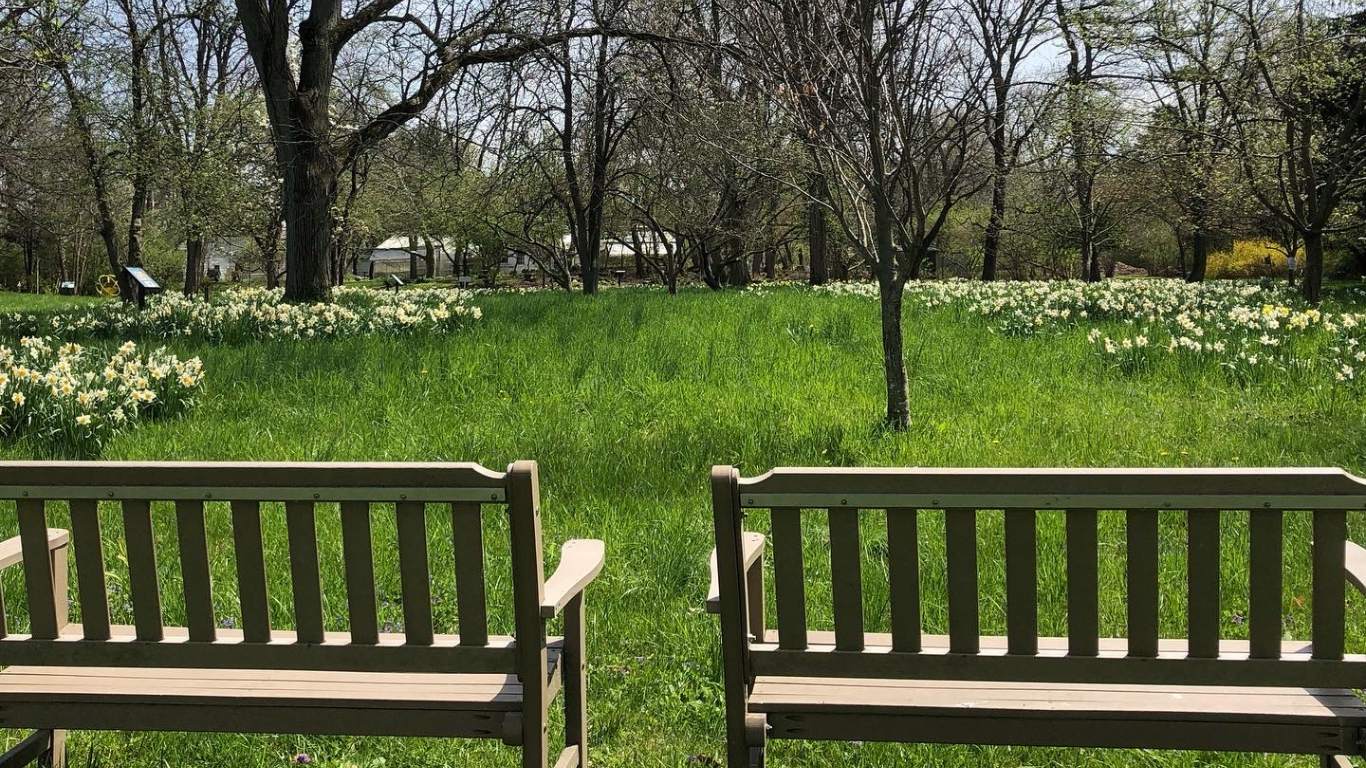 Garden & Grounds Hours
Daily, 9am to 5pm
No admission fee to tour the garden and grounds.
Welcome Center & Curiosity Shop Hours
Wednesday – Saturday, 10am to 4pm
Office Staff Hours
Monday – Friday, 9am to 5pm
Holiday Hours
Closed Thanksgiving, Day after Thanksgiving, Christmas Eve, Christmas Day, New Year's Eve, and New Year's Day 
What is Open Daily for Visitors
Buildings: Geodesic Biodome, Log Cabin, Bee Room

 

Grounds: Community Gardens, StoryWalk, Bird Blind, Children's Garden; Outdoor Stage, Riverwalk

 

Seasonal: Did's Fossil Dig and the picnic areas are open seasonally
Pets are Welcome
Pets must always be on a 6-foot leash and under an owner's immediate control.

Always clean up after your pet. Please carry a waste bag with you at all times.
Food & Drink is Permitted
Leave No Trace: Help us keep the grounds looking beautiful, safe, and enjoyable for everyone including the wildlife by following the

Leave No Trace

principles.

 

Dispose of Waste Properly: Pack out what you pack in. Keep our outdoor spaces clean and don't leave behind any trash, food, or pet waste.
Leave What You Find: Leave rocks, plants, and other objects as you find them for the next person to enjoy.
Respect Wildlife: Observe wildlife from a distance. Do not follow, approach, or feed wild animals.
Classes & Special Events
Class Location and Parking: Each class description lists its location at 577. Click HERE to view a full map of the grounds and buildings with two lots available for easy and convenient parking.
Special Events: To learn more about special events, including details on our Music in the Gardens, click HERE.
How to Register for a Class:

 

Online: Classes are categorized into different disciplines on our Programs & Services page. When you find your desired class, click the REGISTER button which will direct you to our RecDesk registration system. Follow the prompts to complete the registration. If you are new to the system, you will need to create a Profile/Household before registering for a class. Registration is complete when payment has been accepted and you receive a confirmation email. Check your spam/junk mailbox if it does not appear in your inbox.
In-Person: Welcome Center ~ Click here for hours
By phone: 419-874-4174

Class Waitlists: Waitlists are available for most classes. If a spot opens, the waitlist will receive notification via email that a spot has opened and it is then first-come, first-served.
Class Cancellations & Refunds: Because space is limited, we rely on you to register for classes thoughtfully. Please help us continue to offer these wonderful classes as affordably as possible by adhering to the following registration, cancellation, and refund policies. Click HERE to read the full policy.
Field Trips & Group Tours
Self-Guided Field Trips & Group Tours: 577 is currently scheduling groups and schools for self-guided field trips and tours for Spring and Summer 2023. To get on the calendar, please contact us at 419-874-4174 or at hello@577foundation.org.
Guided Field Trips & Group Tours: At this time, guided field trips and group tours are paused. If you'd like to be notified when they resume, please complete this Contact Us Form.
Facility Reservations
The Library in Virginia's House and the Cottage are available to community organizations, schools, governmental organizations, and community-minded corporations for strategic planning, trainings, and retreats. Groups whose meetings were cancelled in 2020 will have the first opportunity to rebook their dates starting January 4, 2023. All others will be able to book meeting dates starting February 1, 2023. More details on updated reservation policies, cost, and availability will be released HERE on January 4, 2023.
Please note: Our mission is to build a creative, caring community through curiosity and lifelong learning. Because these spaces are shared for educational and community benefit, they are not available to be used for personal social gatherings like parties or showers.
Photography at 577
Photos and videos taken for personal use at 577 are welcome. Please be mindful that your photography or video activities respect the needs and privacy of other visitors.
Professional photography, including wedding, engagement, prom, model, etc., is

not permitted without prior permission

. To inquire about our Golden Hour Sessions, please contact us at hello@577foundation.org.
Book & Art Supply Donations
Donations are accepted during Welcome Center & Curiosity Shop open hours. We accept drop-in donations of up to two (2) boxes or bags of gently used and like-new books (approximately 20 to 30 books) and art supplies without an appointment. If you have more than two boxes, please give us a call at 419-874-4714 or email hello@577foundation.org.
Click HERE

for a full list of items we are currently accepting.

 
Get Involved
Learn more about volunteering at 577 by clicking HERE.
Inclement Weather
If Wood and/or Lucas County issues a snow emergency, please follow these guidelines:
Level One:

577 is open as normal. Classes, meetings, and events will continue as planned.

Level Two:

If a Level Two weather emergency is issued for Wood or Lucas County, 577 may close the grounds and cancel classes, meetings, and events until the weather emergency warnings are lifted or reduced to Level One.

 

Level Three:

577 will be closed until the weather emergency level is reduced to a Level Two or lower. All events, meetings, and classes are cancelled.

 

Please Note: We may have to close/cancel in real-time upon changing weather forecasts. If this occurs or we need to close/cancel for any reason, an update will be posted on social media, and we will contact all participants about the status of their class. If Lucas or Wood County is under a Level One or no snow emergency, but surrounding counties are Level Two and above, students should contact us if they cannot make it to class safely and may request a refund or credit.
Concerns about Covid-19
577 is a place of joy, wonder, and coming together for each other. Our primary objective is to act responsibly to help minimize the spread of Covid within the community and do our part to avoid overwhelming our hospital systems. Our priority will always be the health and safety of our visitors, students, instructors, volunteers, and staff. With your help and support, we can make an impact.

 
577 relies on the Centers for Disease Control and Prevention's COVID-19 Community Level system to inform which prevention actions to take based on the latest information. According to our policy, facial masks will be required for all staff and visitors (regardless of vaccination status) in 577's indoor facilities if the CDC COVID-19 Community spread level reaches HIGH in Wood County and/or Lucas County. Indoor facilities include the Dome, Bee Room, Log Cabin, Virginia's House, and the Welcome Center & Curiosity Shop. Masks will not be required outdoors around our grounds and gardens.

 
CDC data is updated on a weekly basis. We will alert our guests if circumstances require that masks be worn at 577 and remain hopeful that these situations are only temporary. The good news is that currently, all buildings are open, and masks are not required at this time.