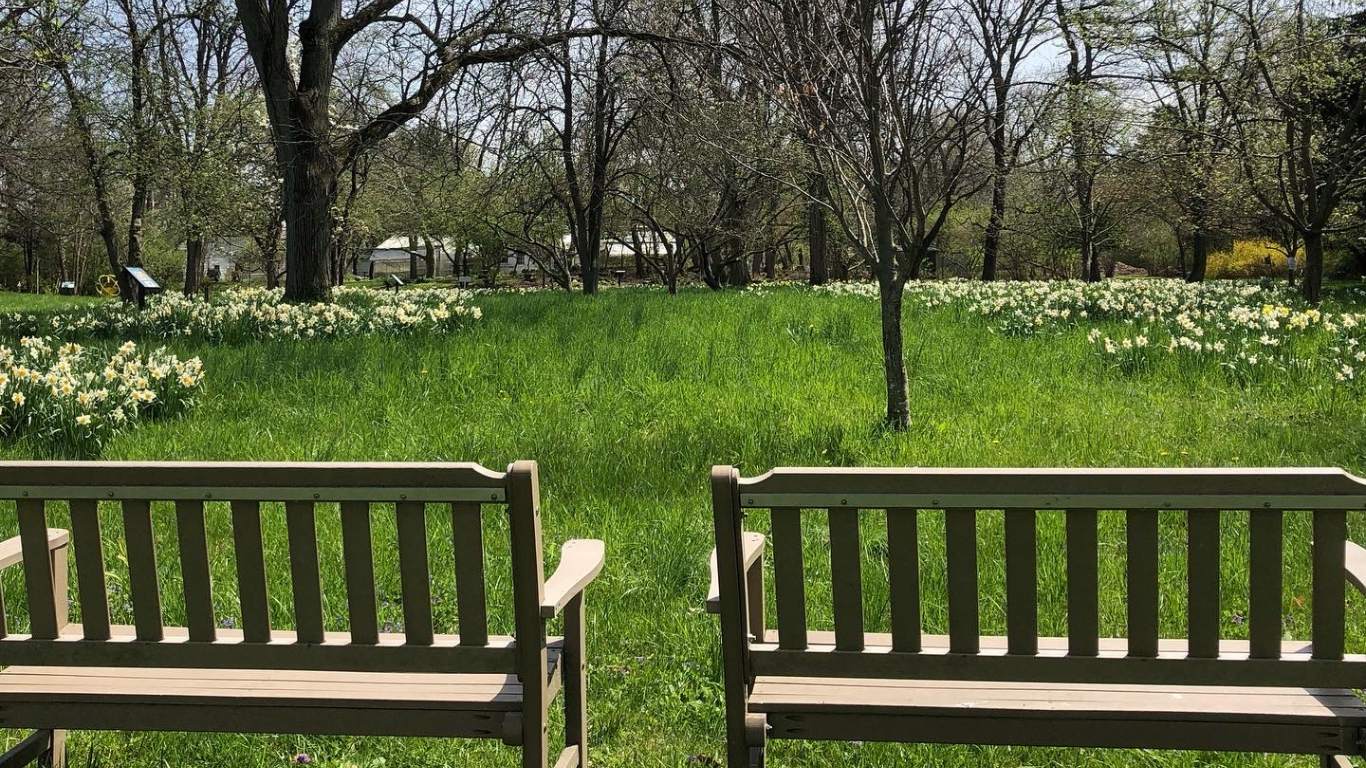 Frequently Asked Questions
Garden & Grounds Hours
Daily, 9am to 5pm
No admission fee to tour the garden and grounds.
Explore the Grounds with the interactive map below.
Welcome Center & Curiosity Shop Hours
Monday ~ Saturday, 10am to 5pm; Closed on Sundays
Office Staff Hours
Monday – Friday, 9am to 5pm
Holiday Hours
Closed Thanksgiving, Day after Thanksgiving, Christmas Eve, Christmas Day, New Year's Eve, and New Year's Day 
The Welcome Center & Curiosity Shop will be closed the following dates: Wednesday, December 13; Sunday, December 24 thru Monday, January 8. 
Frequently Asked Questions
Scroll to the bottom of this page for the answers to the most frequently asked questions
Need more help? Give us a call at 419-874-4174, or email hello@577foundation.org
577 is located at 577 E Front St, Perrysburg, OH 43551, in the historic district of downtown Perrysburg. The entrance to the property is located at the intersection of East Front Street, East Boundary Street, and East River Road.
Direction from North via Interstate 475 South ~ Sylvania, OH; Toledo, OH; Ottawa Lake, MI: Take I-475 south to Perrysburg. Follow I-475 S to US-24 E/Anthony Wayne Trail in Maumee. Take exit 4A-B from I-475 S. Continue on US-24 E/Anthony Wayne Trail. Take US-20 E to E Front St in Perrysburg. Look for a white picket fence on the left with a navy sign with the white numbers "577" and a white honeybee on the gate.
Directions from South via Interstate 475 North ~ Bowling Green, OH; Findlay, OH: Take I-75 N to Perrysburg. Follow I-75 N to US-20 W/US-23 N/Fremont Pike in Perrysburg Township. Take exit 193 for US-20/US-23 toward Fremont/Perrysburg. Turn left onto US-20 W/US-23 N/Fremont Pike. Turn right onto E Boundary St. Look for a white picket fence and a navy sign with the white numbers "577" and a white honeybee.
Parking is available in the Courtyard Parking Lot and Virginia's House Parking Lot. Parking is limited; when possible, please carpool.
Signed up for a class or attending a meeting? Click HERE to view a full map of the grounds and buildings with two lots available for easy and convenient parking.
Frequently Asked Questions
What is 577?
"The 577 Foundation is a work of art being molded by the community."
— Virginia Secor Stranahan
Spaces of Wonder and Discovery for Children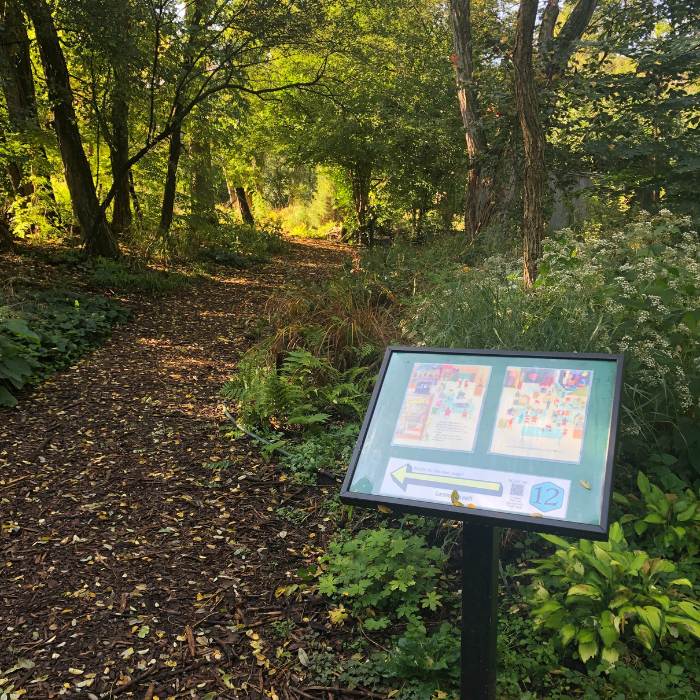 StoryWalk
®
StoryWalk® is a year-round trail around the circumference of the 577 grounds. There are 20 signposts along the trail, each featuring pages of a picture book. Stories rotate monthly and are carefully selected to feature award-winning authors and illustrators that celebrate the best of 577: nature, science, kindness, generosity, inclusivity, and belonging. 
The StoryWalk® Project was created by Anne Ferguson of Montpelier, VT and developed in collaboration with the Kellogg-Hubbard Library. StoryWalk® is a registered service mark owned by Ms. Ferguson. We are grateful to the Black Swamp Conservancy, the estate of Mary Anne Tigges, Perrysburg Rotary Foundation and Rotarian volunteers for making this popular self-directed program a reality.
Current Storybook® Book:
577's November StoryWalk® book is Recycle Every Day! written and illustrated by Nancy Elizabeth Wallace.
Minna, a creative bunny, wants to win the Community Recycling Calendar Contest. She knows a lot about recycling but just can't come up with the perfect idea for her poster. Minna's family helps her find inspiration as they share their own recycling efforts. The book's bright, bold cut-paper illustrations are enhanced by Wallace's use of recycled materials such as bubble wrap, envelopes, and wallpaper. With games, activities, and recycling suggestions, this book is destined to be read again and again.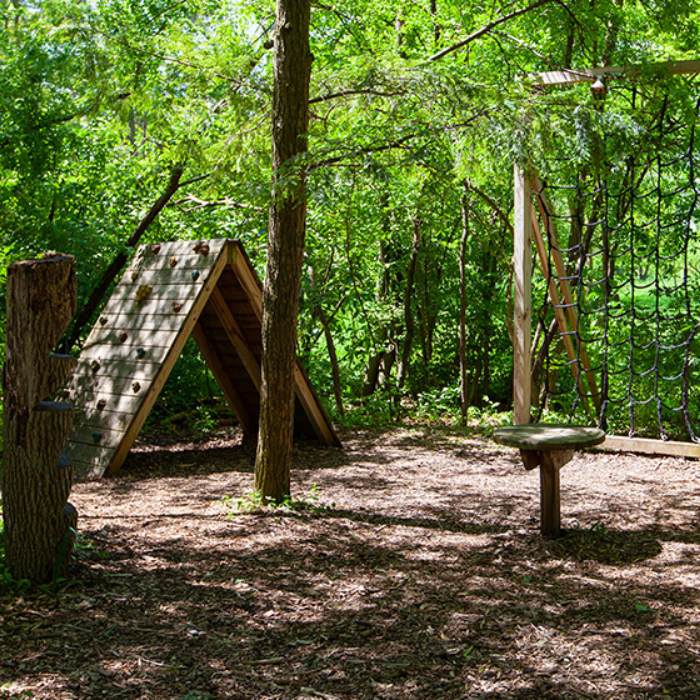 Children's Nature Playscape
"A space that fosters a naturally occurring educational process within the ever-curious child" – no better words described the child-like Virginia Stranahan.
The interactive children's garden and nature playscape was designed in 2002 to honor Virginia and has been added to over the years in the spirit of the international "play naturally" and "nature play" movements.
Children's unstructured play in nature benefits their physical, emotional, and intellectual development and installs a love of the environment.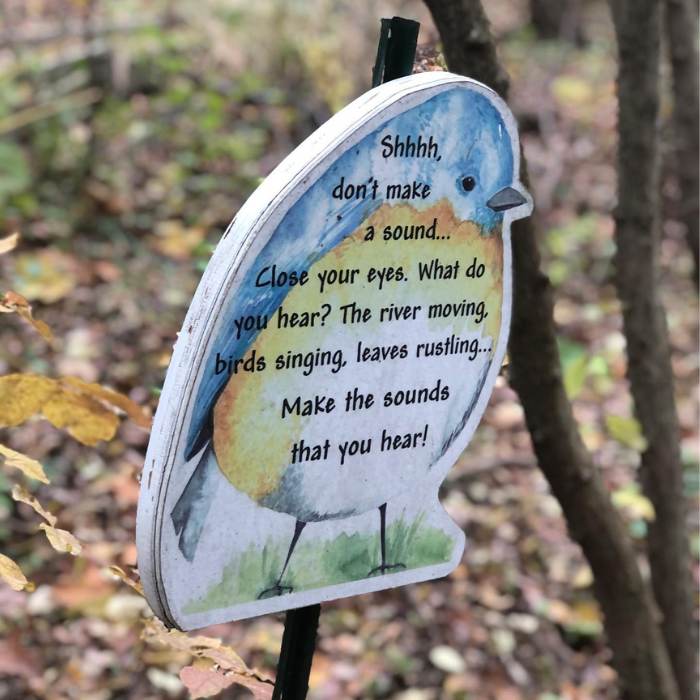 Riverwalk Trail 
Explore a grassy trail that winds through an apple, peach, and pear orchard to a hill top view of the Maumee River. It then descends through the flood plains (careful, it gets muddy after the rain) and brings you to the river's edge and a view of a wilderness island.
Kids (and kids at heart) can use their eyes, ears, nose, and more to sense what's happening around them with sensory signs along the trail. 
What will you discover along the way?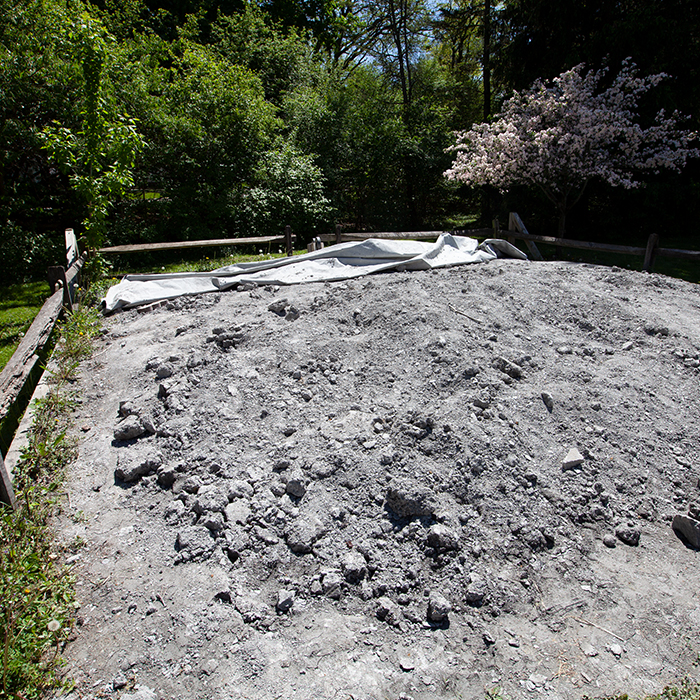 Did's Dig
During the Devonian period, a shallow sea covered Northwest Ohio. Discover fossilized remains of creatures from the 375-million-year-old past in the silica shale rock pile. In your search, you might find fossils of clams, sea lilies, corals, trilobites, and bony fishes, including sharks, to take home.
Seasonal Update: Did's Dig is CLOSED for the winter season. Check back this spring for an opening date. 
Frequently Asked Questions
Frequently Asked Questions
Frequently Asked Questions
What is Open Daily for Visitors
Buildings: Geodesic Biodome, Log Cabin, Bee Room

 

Grounds: Community Gardens, StoryWalk, Bird Blind, Children's Garden; Outdoor Stage, Riverwalk

 

Seasonal: Did's Fossil Dig and the picnic areas are open seasonally
Pets are Welcome
Pets must always be on a 6-foot leash and under an owner's immediate control.

Always clean up after your pet. Please carry a waste bag with you at all times.
Food & Drink is Permitted
Leave No Trace: Help us keep the grounds looking beautiful, safe, and enjoyable for everyone including the wildlife by following the

Leave No Trace

principles.

 

Dispose of Waste Properly: Pack out what you pack in. Keep our outdoor spaces clean and don't leave behind any trash, food, or pet waste.
Leave What You Find: Leave rocks, plants, and other objects as you find them for the next person to enjoy.
Respect Wildlife: Observe wildlife from a distance. Do not follow, approach, or feed wild animals.
Classes & Special Events
Class Location and Parking: Each class description lists its location at 577. Click HERE to view a full map of the grounds and buildings with two lots available for easy and convenient parking.
Special Events: To learn more about special events, including details on our Music in the Gardens, click HERE.
How to Register for a Class:

 

Online: Classes are categorized into different disciplines on our Classes & Events page. When you find your desired class, click the REGISTER button which will direct you to our RecDesk registration system. Follow the prompts to complete the registration. If you are new to the system, you will need to create a Profile/Household before registering for a class. Registration is complete when payment has been accepted and you receive a confirmation email. Check your spam/junk mailbox if it does not appear in your inbox.
In-Person: Welcome Center ~ Click here for hours
By phone: 419-874-4174

Class Waitlists: Waitlists are available for most classes. If a spot opens, the waitlist will receive notification via email that a spot has opened and it is then first-come, first-served.
Class Cancellations & Refunds: Because space is limited, we rely on you to register for classes thoughtfully. Please help us continue to offer these wonderful classes as affordably as possible by adhering to the following registration, cancellation, and refund policies. Click HERE to read the full policy.
Field Trips & Group Tours
Self-Guided Field Trips & Group Tours: 577 is currently scheduling groups and schools for self-guided field trips and tours for Spring and Summer 2023. To get on the calendar, please contact us at 419-874-4174 or at hello@577foundation.org.
Guided Field Trips & Group Tours: At this time, guided field trips and group tours are paused. If you'd like to be notified when they resume, please complete this Contact Us Form.
Facility Reservations
The Cottage and Virginia's House are available to community organizations, schools, governmental organizations, and community-minded corporations for strategic planning, trainings, and retreats. Click HERE to learn more and book your date.
Please note: Our mission is to build a creative, caring community through curiosity and lifelong learning. Because these spaces are shared for educational and community benefit, they are not available to be used for personal social gatherings like parties or showers.
Photography at 577
IN-THE-MOMENT or SNAPSHOT PHOTOGRAPHY: Photographs are a wonderful way for visitors to remember their 577 experience. We encourage visitors to take casual photographs or videos via cell phones or digital cameras. These in-the-moment photographs of plants, individuals, and subjects capture the events of your visit. These are informal photographs shot spontaneously and quickly.

PORTRAIT or SESSION PHOTOGRAPHY: 577 defines still portrait or session photography as all wedding, engagement, proposal, quinceañera, family, maternity, portfolio, prom, graduation and any other posed portraiture of individuals by professional photographers, as well as semi-pro, pro-am or amateur photographers, whether the photographer is being paid or not. If the intent or main purpose of your visit is to take portrait, family, or special occasion photography, rather than a visit in nature, then you are engaging in portrait or session photography. 577 reserves the right to further define portrait photography on a case-by-case basis.
Referred to as Golden Hour Photography, these Portrait or Session Photograhy sessions are now available by appointment after-hours only. Click HERE to learn more and book a session. 
Book & Art Supply Donations
Donations are accepted during Welcome Center & Curiosity Shop open hours. We accept drop-in donations of up to two (2) boxes or bags of gently used and like-new books (approximately 20 to 30 books) and art supplies without an appointment. If you have more than two boxes, please give us a call at 419-874-4714 or email hello@577foundation.org.
Click HERE

for a full list of items we are currently accepting.

 
Get Involved
Learn more about volunteering at 577 by clicking HERE.
Inclement Weather
If Wood and/or Lucas County issues a snow emergency, please follow these guidelines:
Level One:

577 is open as normal. Classes, meetings, and events will continue as planned.

Level Two:

If a Level Two weather emergency is issued for Wood or Lucas County, 577 may close the grounds and cancel classes, meetings, and events until the weather emergency warnings are lifted or reduced to Level One.

 

Level Three:

577 will be closed until the weather emergency level is reduced to a Level Two or lower. All events, meetings, and classes are cancelled.

 

Please Note: We may have to close/cancel in real-time upon changing weather forecasts. If this occurs or we need to close/cancel for any reason, an update will be posted on social media, and we will contact all participants about the status of their class. If Lucas or Wood County is under a Level One or no snow emergency, but surrounding counties are Level Two and above, students should contact us if they cannot make it to class safely and may request a refund or credit.
Concerns about Covid-19
577 is a place of joy, wonder, and coming together for each other. Our primary objective is to act responsibly to help minimize the spread of Covid within the community and do our part to avoid overwhelming our hospital systems. Our priority will always be the health and safety of our visitors, students, instructors, volunteers, and staff. With your help and support, we can make an impact.

 
577 relies on the Centers for Disease Control and Prevention's COVID-19 Community Level system to inform which prevention actions to take based on the latest information. According to our policy, facial masks will be required for all staff and visitors (regardless of vaccination status) in 577's indoor facilities if the CDC COVID-19 Community spread level reaches HIGH in Wood County and/or Lucas County. Indoor facilities include the Dome, Bee Room, Log Cabin, Virginia's House, and the Welcome Center & Curiosity Shop. Masks will not be required outdoors around our grounds and gardens.

 
CDC data is updated on a weekly basis. We will alert our guests if circumstances require that masks be worn at 577 and remain hopeful that these situations are only temporary. The good news is that currently, all buildings are open, and masks are not required at this time.