Find motivation and connection in classes designed to promote health and wellness for every age, at every level of activity. Classes focus on healthy living and offer opportunities for friendship and community, a send of well-being, self-confidence, and improved mental abilities. Yoga, Tai Chi, Qi Gong, Meditation, and Herbalism are just a few of the small group classes taught by passionate, trained community instructors. Class topics vary each month and are taught in the Cottage, House, and outdoors around the beautiful gardens and grounds of 577.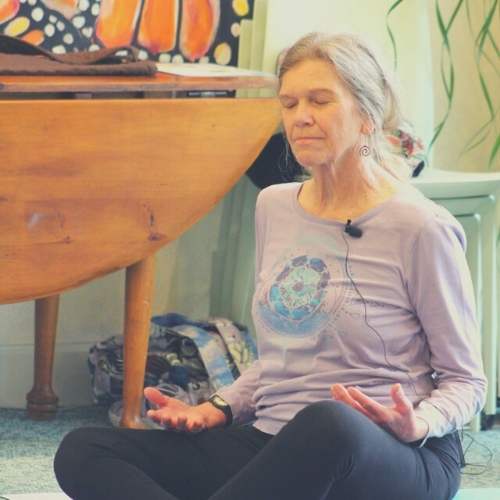 Yoga for Your Health ~ Monthly Video Package
NEW! Summer Special ~ June/July/August
Check out this special Summer Yoga opportunity! Pam Bortz has taught traditional, beginner's Yoga classes at 577 for over 18 years. Although she is unable to teach this summer, together we have thought of a unique way to bring her class to you.
Over the last few years, 577 has recorded each session Pam has taught in her Yoga for Your Health series. We have carefully chosen 24 sessions that will be available in 8-session packages in June, July, and August. For each month registered, students will receive 8 different videos.*
*Students many sign up for one month or all three. Each month has a separate registration. Registration for each month ends on the 15th.
This series is perfect for those looking to give yoga a try from the comfort and convenience of their own home, or for students simply missing the sweet and gentle style of Pam's yoga classes. Each class focuses on movement, breath, peacefulness, and mindfulness. The movements can be altered for all levels. Supplies needed: a Yoga mat, a blanket for your knees and Savasana , a Yoga belt or long neck tie works.
Community Instructor: Pam Bortz
Class Locations & Parking Map
Signed up for a class and need help finding your classroom location and parking? Each class description lists its location. Click the button below to view a full map of the grounds and buildings with two lots available for easy and convenient parking. 
Cancellation & Refund Policy
Because space is limited, we rely on you to register for classes thoughtfully. Please help us continue to offer these wonderful classes as affordably as possible by adhering to the following registration, cancellation, and refund policies.
Photos and videos may be taken during 577 classes and events for use on our website and other relevant media outlets and your attendance constitutes consent. View the full policy below including how you can opt-out of this release.