Written by Avery Bohman, 577 Program Intern
Earth Month (April ) has come to a close which I think is the perfect time to reflect on why it is so important for us to implement our environmental goals and values. Environmental stewardship is one of 577's key pillars we strive to incorporate into our day-to-day practices, and it is because of our founder, Virginia Secor Stranahan, that we have this same passion and curiosity for the environment.
Virginia had a hunger for learning from a young age, always interested in people and the environment. She encouraged others to get hands-on and explore nature and the arts. She began wondering how to preserve her land and spark the same joy and fulfillment she felt from nature in others. In 1988, Virginia established The 577 Foundation and initiated the local Black Swamp Conservancy to put a conservation easement on the property, which permanently ensures the protection of the land for its natural beauty and value.
We continue to draw inspiration from Virginia's passion and dedication in a variety of ways, energizing 577 through curiosity, lifelong learning, conservation, sustainability, and more. In April, I asked our team at 577 to think about what the word environmentalism means to them and how they use it in their jobs. Each staff member holds a range of experiences—from educational degrees to personal passions—that guides their focus on which elements of environmentalism directly affect their respective jobs. Read on to see what our team had to say about the unique ways we incorporate environmental sustainability into what we do every day.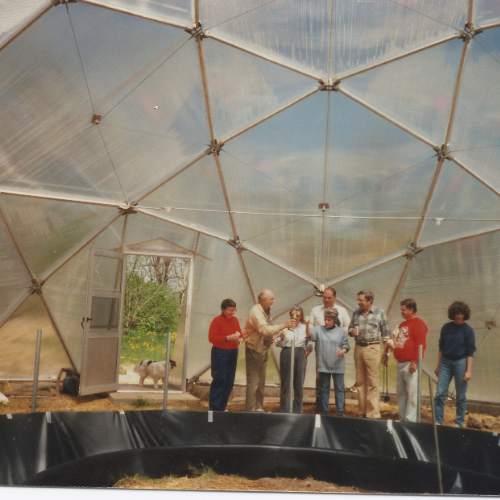 Thoughts from Heather and Kelly on Virginia Secor Stranahan's Lasting Influence
577 would not be where it is today without the guidance and provision of Virginia Secor Stranahan. We still honor her life and her mission by always including her in our conversations when discussing the future of 577. Promoting environmentalism at 577 is a natural thing for us, thanks to Virginia's values and the purpose she gave to this organization. She continues to inspire us every day. Two staff members who work closely with the future of 577 had many things to say about how Virginia influences their meaning of environmentalism and guides them forward.
Heather Gallant, 577 Executive Director:
Heather's unique and heartening approach to environmentalism includes recognizing the respect, harmony, and honor it encompasses. She says it's about "living in harmony and reducing suffering in the world, honoring the past, and laying the foundation of longevity as a service to future generations." One of the things 577's founder, Virginia Secor Stranahan, promoted was conservation and appreciation of the land. Heather says, "Virginia entrusted this land, these buildings, and this organization to all of us so that we could all connect with the land, the arts, and each other through curiosity and healthy relationships."
Heather also spoke with me about Virginia's exploratory life—from her time outdoors as a little girl, to experiencing winter camping on cross-country skis in the Canadian Rockies in the 1920s, to traveling with her family as they hunted, fished, and backpacked through the Rocky Mountains. She mentioned Virginia traveled throughout Alaska and both the Arctic and Antarctic regions of the world. "As she traveled, she saw firsthand environmental challenges that were unfolding as early as in the 1970s.  In the early '80s, Virginia noticed that many of the riverfront estates along the Maumee River were beginning to sub-divide. Virginia became concerned that people would no longer have any access to nature along the river. She decided to share her homestead estate in a way that would preserve the land she loves, teach stewardship, and make it useful to all," says Heather.
Heather also writes that "At the age of 80, Virginia decided to put into practice her conservationist values. When asked why she chose to preserve her estate for others, she would say, 'to keep a corner of Perrysburg green,' and 'to give people a way to get down to see the Maumee River.' Virginia thought it was important for people to maintain a personal connection to the land and the river, which was one of her driving forces behind establishing 577."
Because of Virginia's personality, goals, experiences, and work, 577 is truly a reflection of her life. Heather says Virginia's energy, interest in the arts, nature, philosophy, and literature was all reflected in this beautiful and generous place, and that "the value of her gift cannot be measured."
Another takeaway from Heather is that you too can be a conservation partner. "You can come and learn organic gardening practices from our horticulturists to keep chemicals off lawns, away from gardens, and out of waterways. You can learn to mend your clothes instead of throwing them out and getting new ones. You can donate books and art supplies to the Curiosity Shop so they can be loved by someone else, or purchase items from there to reduce additional waste. You can learn to enjoy nature (it's really not too hard!) and work to keep it clean, healthy, and beautiful."
Kelly Rose Hirsh, Assistant Director of Administrative Operations:
Within Kelly's role at 577 and as a resident of Perrysburg, she says she is so grateful for our founder, Virginia Secor Stranahan. Kelly says "Virginia's foresight and dedication to environmentalism resulted in this gift to the community, and because of her generosity, visitors of all ages and backgrounds can come to 577 to learn and connect with nature, and hopefully, leave inspired to protect it."
To Kelly, environmentalism is about protecting the earth's limited natural resources and minimizing the negative impacts humans induce. "It's not always easy or cheap, but as an individual, I consciously attempt to reduce waste, reduce harmful plastics and chemicals, and conserve water and energy, as best as I can. I think the worst thing we can do is throw our hands up in the air and say the problem is too big for one person to make a difference. Even small actions add up," she writes. What's most important, though, is what we might do with our vote. Paying attention to what's going on at the different governmental levels is extremely important in casting our votes and using our voices.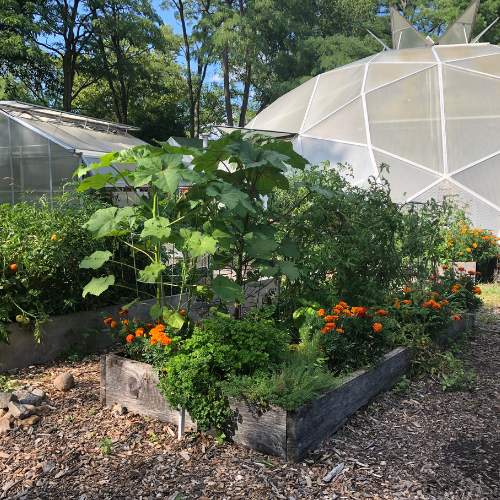 Thoughts from the Properties team on The Grounds:
577's beautiful grounds are a product of our Properties team and their dedication to making the space happy and healthy. Environmentalism includes cultivating sustainable gardening practices and tending to the needs of the land, wildlife, and people. Our horticulturists on staff work hard to research and foster good practices, and here is what they have to say about what environmentalism means to them:
Bennett Dowling, Organic Landscape Horticulturist:
Within Bennett's role as the Organic Landscape Horticulturist, he believes, "when done properly, garden design is inseparable from environmentalism." One of his favorite quotes to follow when working on gardening projects at 577 is from Toby Hemenway's gardening book, Gaia's Garden. Hemenway says "Every landscape has two 'clients' with their own needs: the people who live there, and the land itself." This quote inspires Bennett in his work here at 577, whether that be with the planning, selection, or management of a landscape. He says these elements "can either serve solely the needs of humans or take an alternate route and see humans merely as a dominant species in a complex biodiverse ecosystem.  In managing the landscape here at 577, we try, as much as possible, to follow the latter approach."
Samantha Day, Organic Garden Horticulturist:
Samantha studied Environmental Science during her undergrad and said most of what she thinks of as environmentalism is surrounded by the science of it, such as the chemistry of pollution, global warming, and nutrient cycling. She said she approaches it with a "First, how does this work?" mindset. For example, "If there are issues with a new insect in the community garden area, I would probably research where it's coming from. Why now? Are there any options for control? Then, after the 'understanding' part, I would experiment with a practical method," says Samantha. On top of her work in the community gardens and around the grounds, she also teaches a variety of classes at 577, ranging from the issues of soil to planning an organic vegetable garden.
She also says she approaches environmentalism "through spirit" as opposed to her "analytical side," enjoying walks through nature as she observes what's around her. She says she has chosen jobs that allow her to actively work outside, and areas to live with great parks around. Even her hobbies outside of work play into the relationships and conversations she builds at work. Poet Mary Oliver's themes of nature and contentment in nature influence Samantha's own reading and writing, which, in turn, carries into her career. "In a nutshell," she says, "it can be very balanced to have a direct-indirect, push-pull relationship with environmentalism. You don't have to be an activist to be an environmentalist. Environmentalism is 'being,' not just 'doing.'"
Mike Mummert, Assistant Director of Buildings, Grounds, & Technology:
Mike M. programs a lot of our technology on the grounds around the environmentally cautious values 577 holds, such as the automated HVAC systems that turn on and off depending on who is present in the buildings at certain times. The systems will kick on if there are classes going on and turn off if the building is unoccupied. We also prohibit the use of glitter and balloons on our grounds, since these materials contain microplastics that are harmful to the environment. When instructors teach classes, we ask them to use what's available in the buildings, such as reusable dishes, glassware, silverware, et cetera, rather than bringing single-use disposable materials.
When asked what environmentalism means to Mike M. and why he chooses to incorporate it into his work, he simply said, "I do it because it's the right thing to do."
Mike Welling, Maintenance/Custodial:
Regarding maintenance at 577, environmentalism to Mike W. means "to recycle, reuse, and repurpose. An example is we buy locally milled oak planks for the raised garden beds each year. Some of these planks need to be cut to fit and these scrap pieces have been repurposed into new tic tac toe boards for the kids' play area, made into new molding for the corner of the garage, and various other projects. We usually save anything from our projects that could be used in the future which helps environmentally and financially."
Jake Miller, Custodian:
Jake takes great care of the buildings at 577, maintaining beauty and cleanliness across the board. He mentioned using environmentally friendly cleaning agents and keeping up with the various recycling bins all over the grounds that visitors can use. We also have preventative maintenance measures in place to avoid emergency repairs, most especially for places already showing signs of deterioration. He even cares for some of the wildlife on the grounds, feeding the squirrels and birds that visit.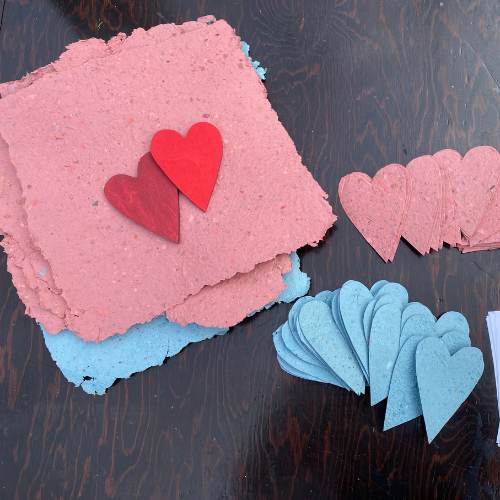 Thoughts from the Education and Outreach team:
A pillar of 577's mission is the dedication to cultivating curiosity and lifelong learning, but the thoughtful intention to advocate and educate about environmentalism, conservation, and sustainability. Through our media and marketing, classes and programming, and even planning and scheduling, we strive to share our beliefs about the importance of incorporating sustainable practices into the way we operate. Here is what our instructors and education team have to say about environmentalism at 577 and in their personal lives:
Danielle Marino, Assistant Director of Education & Outreach:
Danielle believes that as we grow up, we often think things will always be here, from always having access to clean water and enough food, to always enjoying the beautiful trees and wildlife surrounding us. She says that as we get older, we learn this isn't true, that these things are not infinite, that "they must be appreciated and protected so that they may be enjoyed by future generations, like the pollinators that visit our gardens because we planted and cared for them."
Danielle also says that there is "something special about getting your hands 'dirty.' To learn hands-on." 577 is a wonderful place to learn to love the land, just like Virginia wanted. "The gardens and grounds are open daily with no admission fee. If someone is curious about gardening, native trees, and homesteading practices, there are opportunities to take a class. There are opportunities to talk to 577's staff during a visit, and to learn from other community folks. Classes in fine arts are available and involve the history of the craft, ways to be sustainable, and often have focus on nature."
Outside of 577 classes, one of the Welcome Center & Curiosity Shop's primary goals is to offer affordable books and art supplies to the community, which is a "huge sustainability component," keeping waste outside of streams and other natural places. Danielle says "Naturally, folks' interests in hobbies and books will change over time. They may need to downsize or may just want to make room for a new interest. No one wants to add more waste to our landfills. By taking in these donated items, folks have an environmentally friendly way to dispose of items they no longer want, while also providing these items to other community members who are looking to try a new hobby or read a new book."
Finally, Danielle writes that staff at 577 approaches every single task with the mindset of, "'How can we do this in the most sustainable way?' From the HVAC system to the soap in the bathrooms to the reused paint pallets used in watercolor classes, we strive to do the best we can with what we have. I think that is all you can ask of those in the community. Approach everything thinking, 'How can I be as sustainable as possible with the tools and resources I have?'"
Connie Stose, Program Manager:
When it comes to Connie's position at 577, she incorporates environmentalism into her painting classes by opting for sustainable materials. She also educates herself on sustainable topics to bring her students the most up-to-date and accurate information. Connie also explains that "Virginia Secor Stranahan was ahead of her time when it came to thinking about the environment, and I've always loved 577's focus on being as sustainable as possible. Whether it's being mindful before laminating something that may not really need it or making our Earth Month celebration a priority and taking the opportunity to offer interesting and informational classes, I take this part of the 577 mission seriously."
Julie Beutler, Pottery Studio Manager & Ceramic Artist, and Emily Horst, Pottery Fellow:
The pottery program incorporates a lot of practices that are reflective of environmental concerns, one of them being the replacement of plastics with the functionality of long-lasting pottery pieces. Julie and Emily recycle leftover clay from the pottery classes and workshops. "Clay recycling is an important part of our process in the studio. Any piece of clay that has not been fired in the kilns can be recycled and reused," says Julie. The equipment and machines they use regularly aid in the reuse cycle, like the large buckets of a few hundred pounds of aged scrap clay, and the pugger, a machine like a mortar mixer, which reconstitutes the moisture-extracted scrap clay back into solid extrusions ready to be used again. They say this saves several hundred pounds each year in new clay purchases.
The pottery studio also practices environmentalism through 577's Adopt-a-Pot Program. Rather than throwing these pieces away, 577's pottery students donate their unwanted pieces back to us to be sold in the Welcome Center & Curiosity Shop. This helps the environment by keeping their pieces out of landfills, while also simultaneously giving back to their pottery program. All proceeds are donated back to the pottery studio fund. You can check out these wonderful, affordable pottery pieces during open hours. New pieces are added every day. It's a great place to look for one-of-a-kind recycled pottery!
Lastly, as a potter and instructor, Julie hopes to "instill in our pottery students a love for handmade functional pottery that develops into using items that last and that are not made of harmful plastics. Instead of using a disposable cup for the morning coffee, we grab a handmade mug made with love…and as all potters like to say, 'Everything tastes better in handmade!'"
Isabelle Tucker, Programs Assistant:
Isabelle primarily oversees the operation of the Welcome Center & Curiosity Shop at 577. She also teaches various art classes each month. When asked about environmentalism, Isabelle said she thinks about the "way we can give back to the environment as it has done so much for us. Especially here at 577, the word holds so much importance. I feel my entire position in the Curiosity Shop is about environmentalism and sustainability as everything we have here is recycled and reused by the community. With the donations we bring in, some people don't even know they are reading their neighbor's donated book or using the paint of another local artist!" 
Avery Bohman, Programs Intern:
To me, environmentalism is about education and growth. It's about extending my knowledge to others, offering guidance and love, and truly appreciating the nature around me.
Through my classes and experiences at the University of Toledo as a sustainability minor, I learned I don't have to be an expert or master of any information or topic, but if I'm continuing to educate myself on environmental issues and encouraging others to do the same, I am doing my part. I love the feeling I get when I push myself to live more sustainably, for the environment itself, but also for my community. It's so important to note that no one lives a perfectly sustainable life, and that there's always room to grow and learn more. Learning and absorbing information on environmental issues and sustainable practices allows me to open up and connect with nature even more. The earth has many gifts, but I cherish them on an even deeper level when I'm in tune with how to care for and advocate for it.
At 577, I am able to pair my creative and artsy brain with my sustainability-focused mindset to develop unique classes for students. My pedagogy includes pairing my biggest passions and hobbies to softly educate others on ways to make their lives more sustainable, care for the environment, and relax and unwind with hands-on creativity and learning. Many of my classes are centered around art and crafts but have underlying environmental messages. I am also constantly brainstorming ways to reduce materials for classes and reuse things we already have around the grounds or in our office spaces—prolonging their lifecycle and giving items new purposes.
Environmentalism doesn't have to be daunting or dull. It's unique to each individual but also brings us all together through our shared devotion and adoration for our beautiful home. Through environmentalism, we engage our minds with ways we might take meaningful action towards bettering our ecosystems and communities. It allows us to take a break from the technology-driven society of our world and truly appreciate what beauty and curiosity lie right in front of us.
Final Thoughts:
The beauty of environmentalism is that it might look a little different to each of us. Our experiences, backgrounds, values, and priorities all affect the way we view the topic, and what emotions or thoughts we pick out as most important or relevant. The web of nuance that stems from this single word is something to respect and admire, as all of us work towards improving our environmental awareness.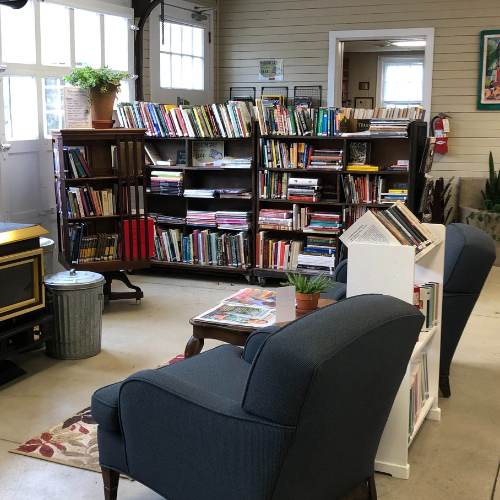 Now that you know what it means to the 577 team, we want to know what you think! What does this word mean to you? How do you incorporate environmentalism into your personal and work life?
For more information on Virginia's life and the start of 577, check out our previous blog posts: Did's Life ~ The Early Years
Stay tuned for our next blog post: 577's Behind-the-Scenes Conservation Efforts