Enjoy a stroll around the grounds as you read March's StoryWalk® book ~ Where Once There Was a Wood by Denise Fleming
 
A powerful poem and stunning, handmade-paper art encourage children to protect nature.

"Where once there was a wood,
A meadow and a creek . . . "

Inspired by events in her own backyard, award-winning author and illustrator Denise Fleming creates a poignant yet hopeful portrait of our disappearing natural environment. The last pages of the book teach children how to make a more "creature-friendly" backyard, including information about what types of food, trees, and flowers attract different kinds of animals. Where Once There Was a Wood also includes an informative bibliography for budding environmentalists and suggests various projects that families can do together.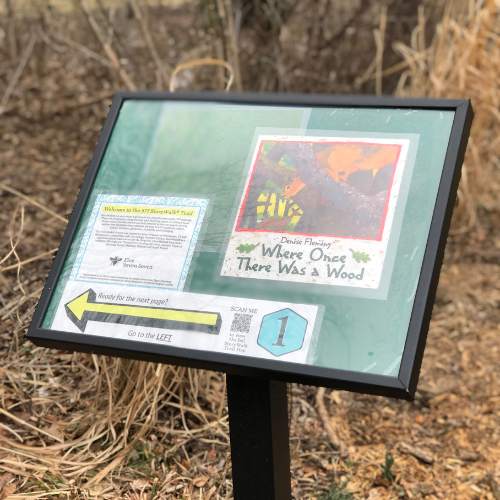 Read more about Anne Ferguson of Montpelier, VT created the StoryWalk® Project in collaboration with the Kellogg- Hubbard Library, as well as how this project was introduced to 577 in our blog post ~ The 577 StoryWalk® Trail. StoryWalk® is a registered service mark owned by Ms. Ferguson.
---
The 577 StoryWalk® Trail is available daily during open hours, 9am to 5pm. Open to all, no admission fee.
The installation of each story generally occurs at the beginning of each month depending on the weather.  Please note: the StoryWalk® path may be muddy during your visit if it has recently rained. Click HERE to view a pin map of the trail.
Have an idea for a book? We would love to hear it! Please send an email to hello@foundation.org