Have you heard of a StoryWalk®?
The StoryWalk® Project was created by Anne Ferguson of Montpelier, VT, and developed in collaboration with the Kellogg-Hubbard Library. StoryWalk® is a registered service mark owned by Ms. Ferguson.
But how did it begin?
In 2007, Anne Ferguson was working as a chronic disease prevention specialist for the Vermont Department of Health. She was tasked with trying to convince families to get outside and be active. She was on the hunt to create something that required the adults to be active alongside their children. She said she tried some different approaches involving children but found the parents stood around chatting while the children were physically active.
She said, "Active parents have active children and physical activity is a key component to chronic disease prevention."¹
She went on to say, "In order to keep people of all ages moving along on a walk, I knew I needed books with minimal text that would appeal to all ages (especially children) and that could fit into families' busy schedules. I wanted my project to be free so that financial limits would not interfere with people enjoying it. I fleetingly thought about writing a children's book myself but knew there were already marvelous, funny, beautiful, and moving stories available." ¹
Out of this brainstorming session came the StoryWalk® ~ an innovative and delightful way for children — and adults! — to enjoy reading and the outdoors at the same time. Laminated pages from a children's book are attached to wooden stakes (original concept) or installed in more permanent signposts (like at 577), which are installed along an outdoor path. As you stroll down the trail, you're directed to the next page in the story.
StoryWalks® last reported that the concept had been installed in 50 states and 13 countries including, Germany, Canada, England, Bermuda, Russia, Malaysia, Pakistan and South Korea! They are always received with appreciation.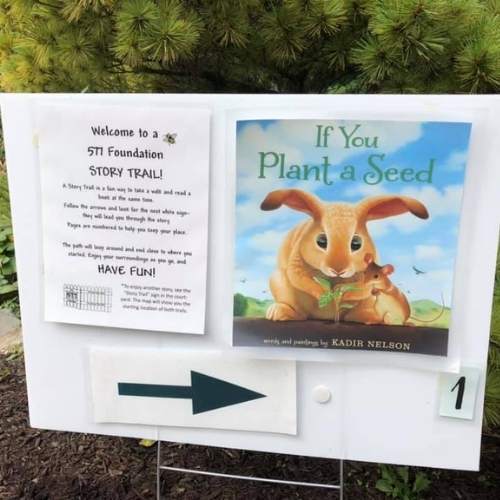 How was the 577 introduced to the StoryWalk® Trail?
It all began with a phone call from the Black Swamp Conservancy in the summer of 2018. Thanks to their generosity, they selected and installed multiple storybooks along the trails during that summer and into the fall. The stories would generally rotate every month. The project ended for the year when the weather got cold because of the type of signage material. In 2019, they again generously offered to provide the StoryWalk® for visitors (of all ages) to enjoy during warmer weather months.
By the end of year two, 577 staff knew we had to find a way to make this a permanent, year-round activity.
Thanks to the generosity of the estate of Mary Anne Tigges, Perrysburg Rotary Foundation, and Rotarian volunteers, a year-round StoryWalk® trail was installed on the 577 grounds in 2020.
The timing for the installation couldn't have been planned better. Beginning in March 2020, we all needed a place where we could enjoy safe activities with our families. The StoryWalk® at 577 became a space the community could visit regularly to escape from the troubles of the world. Each storybook was a new place to travel to. Getting out in nature for a walk was healing for many. The trail has remained a popular feature at 577.
Our StoryWalk® trail consists of 20 signposts that are strategically placed around the circumference of 577 each featuring pages of a picture book. Stories usually rotate monthly and are carefully selected to feature award-winning authors and illustrators that celebrate the best of 577: nature, science, kindness, generosity, inclusivity, and belonging.
Ms. Ferguson may not have envisioned the impact her project would have had when she introduced it 15 years ago. She said, "It (the StoryWalk® project) has always been about promoting early literacy, physical activity, and family time together in nature."¹
We are so thankful for Ms. Ferguson's creativity and willingness to share this project for free with the world. You can learn more about the project by visiting this link >>> https://www.kellogghubbard.org/storywalk
This activity would not be possible at 577 without the continued generosity of our community friends who fully funded the StoryWalk® project in 2022. Children and adults have been able to enjoy the following picture books so far this year:
January: The First Day of Winter by Denise Fleming
February and March: Stranger in the Woods by Carl R Sams II & Jean Stoick
April: Gorilla Gardener: How to Help Nature Take Over the World by John Seven & Jana Christy
May: Cricket in the Thicket: Poems about Bugs by Carol Murray and illustrated by Melissa Sweet
June: What's Inside A Flower?: And Other Questions About Science & Nature by Rachel Ignotofsky
July: Recycle Every Day! by Nancy Elizabeth Wallace
August: Growing Vegetable Soup written and illustrated by Lois Ehlert
September: We Are Water Protectors by Carole Lindstrom and illustrated by Michaela Goade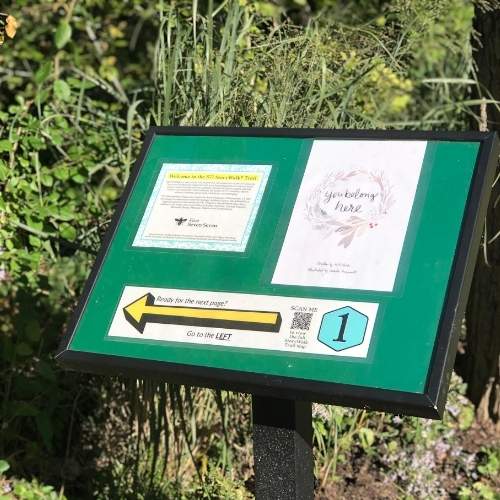 The October book, You Belong Here written by M. H. Clark and illustrated by Isabelle Arsenault, was installed this afternoon (September 30). The stars belong in the deep night sky, and the moon belongs there too, and the winds belong in each place they blow by, and I belong here with you. So begins this classic bedtime book, richly illustrated by award-winning artist Isabelle Arsenault. The pages journey around the world, observing plants and animals, everywhere, and reminding children that they are right where they belong.
You are a dream that the world once dreamt,
And now you are part of its song.
That's why you are here, in the place where you're meant,
For this is right where you belong.
---
The 577 StoryWalk® Trail is available daily during open hours, 9am to 5pm. Open to all, no admission fee.
The installation of each story generally occurs at the beginning of each month depending on the weather.  Please note, the StoryWalk® path may be muddy during your visit if it has recently rained. Click here to view a pin map of the trail.
Have an idea for a book? We would love to hear it! Please send an email to hello@foundation.org
---
¹https://www.kellogghubbard.org/_files/ugd/0f622b_fa5c4096972d49a9ae03dd3dd01cff00.pdf