Did you know 577 offers internship opportunities throughout the year to undergraduate and graduate students? Each semester we welcome one or two college students who are looking to expand on their chosen field of study, develop important professional leadership skills, and flex their creative muscles.
Our interns are responsible for moderating in-person and online classes, installing each month's StoryWalk book, and managing the Welcome Center & Curiosity Shop. Each intern also has the opportunity to develop one or two community classes that they teach on-site, and some of our past interns have taken on the task of completing a special project.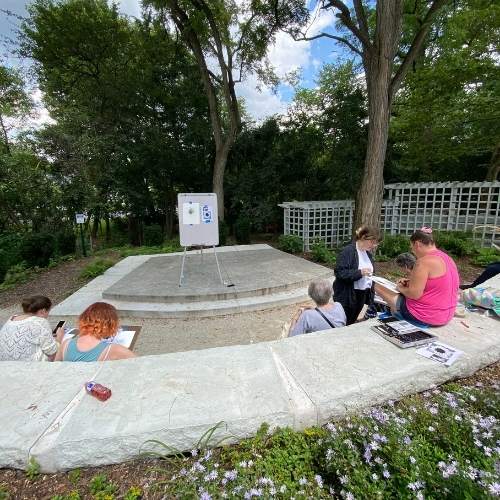 Over the last two years, our program interns have taught classes in painting, screenprinting, drawing, papermaking, watercolors, printmaking, and embroidery. Special projects have included the Joyful Emergence Origami Butterfly project and the Earth Day project (painting of Virginia using recycled materials) that was completed by our Spring 2022 intern, Esther Dolatowski, that is currently on display in the Welcome Center.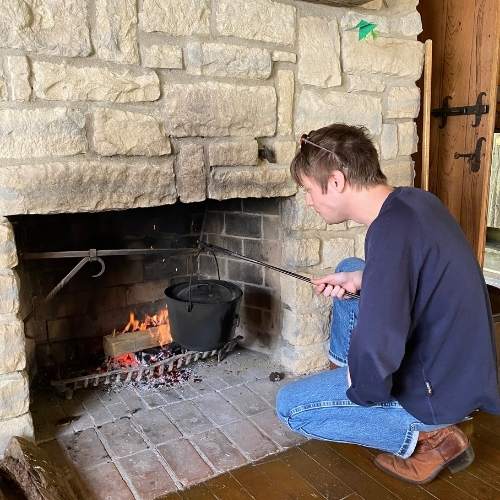 This fall, 577 welcomed two students from the DAAP (University of Cincinnati College of Design, Architecture, Art, and Planning) program, Mason Deane and John Baldwin. Registration is open for their classes in October and November (click the class name below to read the full class description and to register):
Photography: An Exploration of 577
---
Are you a college student looking for an internship in 2023? If so, we have good news! We are currently seeking two well-rounded, open-minded, and creative students who can provide high-quality service to visitors, community instructors, and colleagues.
Requirements include the completion of foundational college-level art coursework (such as color theory, 2D & 3D design concepts and media, art history) or in a field that aligns with the mission of 577. Must be available to work 15 to 30 hours per week and have reliable transportation to and from 577. Work schedules are provided one month in advance and schedules will vary based on the community class schedule and Curiosity Shop hours.
If this sounds like the perfect fit for you, click the button below for a full job description. We are currently reviewing resumes for Spring 2023!
Ready to apply? Send your resume and cover letter to: Connie Stose, Program Manager at cstose@577foundation.org

Have a question? Give us a call at (419) 874-4174