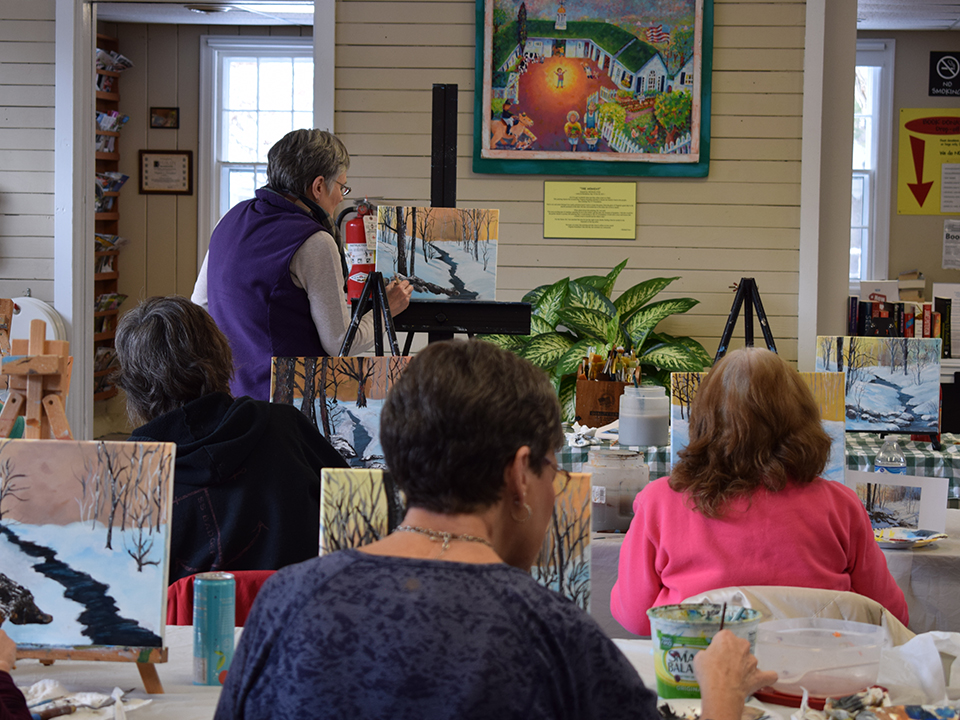 Explore a variety of classes for all experience levels in drawing and painting, as well as printmaking, paper crafts, fused glass, photography, metals and jewelry making, woodcrafts, and more. Classes are taught by dedicated 577 staff members and community members with a passion for their chosen art medium. Class topics vary each month and are taught in the Cottage, House, and outdoors around the beautiful gardens and grounds of 577.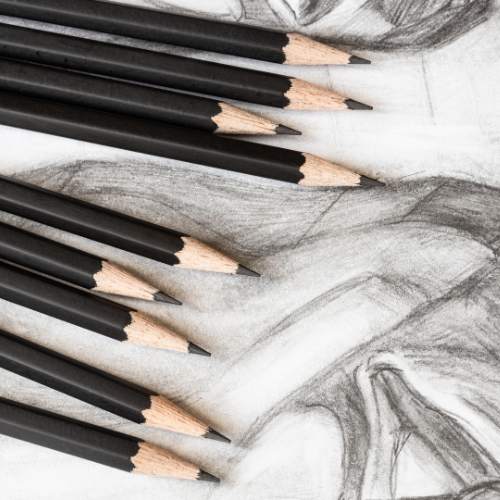 Drawing: Create Your Own Still Life
Tuesday, January 31 ~ 1pm to 3pm
Join us in Virginia's House to learn the fundamentals of drawing by creating a simple still life of your own design. A still life is a collection of objects set up and used as the subject of a drawing or painting.
Students will create their own using items provided by 577, including deer antlers and botanicals, in combination with any personal objects they bring from home. Learn about shading, texture, composition, and more with lots of guidance from your instructor.
577 Staff Instructor: Isabelle Tucker, Program Assistant & Professional Artist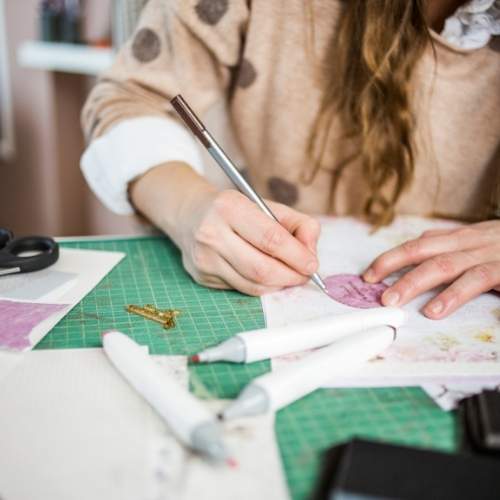 Stamped Cards & Papercrafts
Thursday, February 2 ~ 6:30pm to 8:30pm
Come and wipe away your winter blues by creating with paper! February's class will feature five cards sure to brighten your spirits as you make them and whoever is lucky enough to receive them. You will have the opportunity to personalize these cards by adding a sentiment of your choice.
Whether you are new to paper crafting and rubber stamping, or a veteran, this class will provide you with a variety of elements and techniques to get you inspired. Come enjoy some creative "therapy" as you stamp your worries away with a fun group. All supplies provided.
Community Instructors: Chris Smith
Watercolor: Valentines
Saturday, February 11 ~ 2pm to 5pm
Join us for an afternoon of fun exploring your creativity sustainably while making whimsical hearts and beautiful love-themed cards from reused and recycled materials. Perfect to give as Valentines or to any friend or loved one throughout the year, each student can choose to make 12 to 16 small cards or 6 to 8 larger-sized cards. The instructor will guide you through some examples, and students will be given lots of time to paint and collage on their own.
All supplies provided, including watercolor paints, recycled papers, and ephemera. Students are welcome to bring their own favorite paints, brushes, or collage papers.
Individuals or adult/child pairs (ages 8 and up) are welcome. Great opportunity to create handmade valentines for school.
577 Staff Instructor: Connie Stose, Program Manager & Professional Artist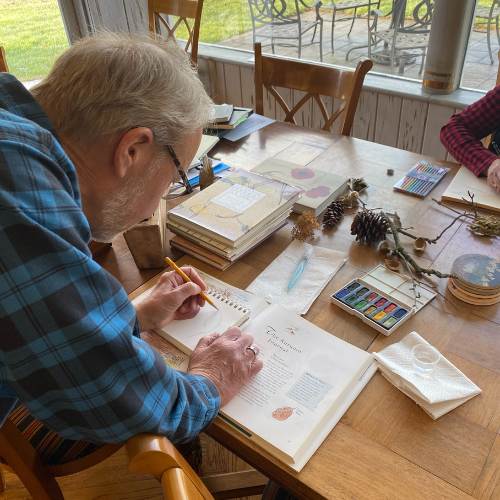 Creating an Illustrated Field Journal
Thursday, February 16 ~ 12pm to 1:30pm
Thursday, March 16 ~ 12pm to 1:30pm
The seasonal changes in the natural world can often be overlooked when we don't take the time to look closely at what is around us. By keeping an illustrated field journal, we can record not only our thoughts, but sketch and draw what we see, creating meaningful pages through the use of word and image.
Using the beautiful 577 grounds for inspiration, new participants in this session will be introduced to the concept of keeping this type of journal and will create their first entry, hopefully inspired to carry on and fill the remaining pages over time. Experienced students are also welcome–learn new tips, gain fresh inspiration in the ever-changing seasons, and build upon past lessons. No writing or drawing experience is necessary, only the desire to have some fun while exploring the natural world around us.
Community Instructor: David Lymanstall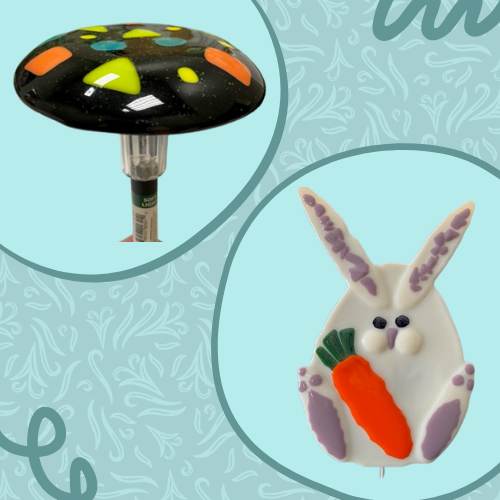 Fused Glass Classes
Fused Glass: Love • Thursday, February 2 ~ 5:30pm to 7:30pm
Fused Glass: Lucky Horseshoe • Thursday, February 16 ~ 5:30pm to 7:30pm
Fused Glass: Bunny • Thursday, March 16 ~ 5:30pm to 7:30pm
Fused Glass: Mushroom • Thursday, March 30 ~ 5:30pm to 7:30pm
FUSED GLASS ~ LOVE: Explore what you can do with frit by using these tiny bits of glass to fill in the traced word "LOVE" on a clear glass background. Project will be returned with a stand for display.
FUSED GLASS ~ LUCKY HORSESHOE: Join us in Virginia's Garage Studio to make a lucky horseshoe with a clover for extra luck. The cost of this project includes a stake for displaying your piece outside, but students can choose to find a stand on their own for displaying inside.
FUSED GLASS ~ BUNNY: Hop into the Easter season early by joining us to make an adorable, fused glass bunny. Students will start with a basic 8-inch oval shape and decorate their bunnies as they wish, with step-by-step guidance from the instructor. A stake will be included for displaying your finished bunny outside.
FUSED GLASS ~ MUSHROOM: Interested in giving your garden a colorful new touch for spring? Join us in Virginia's House garage to create fused glass mushrooms for your landscape. Students will design the mushroom cap by choosing a base color of black, white, or clear, and can get creative with additional shapes and colors. A solar light stem and cap will be used for the mushroom stem and base, and all supplies are included for each person to make two mushrooms.
All projects are left with the instructor who will "fuse" the glass together by firing in a home kiln before returning them to 577 for pick-up. No experience is necessary, all supplies are included.
Community Instructor: Geneen Wise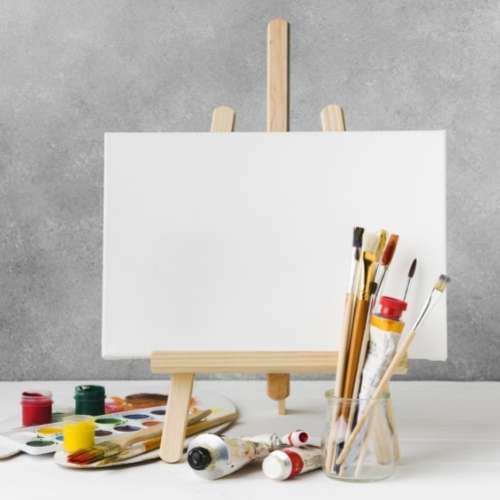 Acrylic Painting
Old Covered Bridge • Monday, February 6 ~ 10am to 2:30pm
Spring Light in the Forest • Monday, March 6 ~ 10am to 2:30pm
Join us for an in-person Adult Acrylic Painting Workshop inside Virginia's House. No experience is necessary and all supplies are included for you to create your own work of art on an 11" x 14" canvas. Bring a snack or two to enjoy throughout class or bring a lunch for our midday break. 
OLD COVERED BRIDGE: Students will be guided step by step to paint an old covered bridge, a winter sky, bare trees, and snow. 
SPRING LIGHT IN THE FOREST: Students will be guided step-by-step to paint morning light streaming softly through trees, foliage, and a quiet path.
Community Instructor: Mary Claire Roe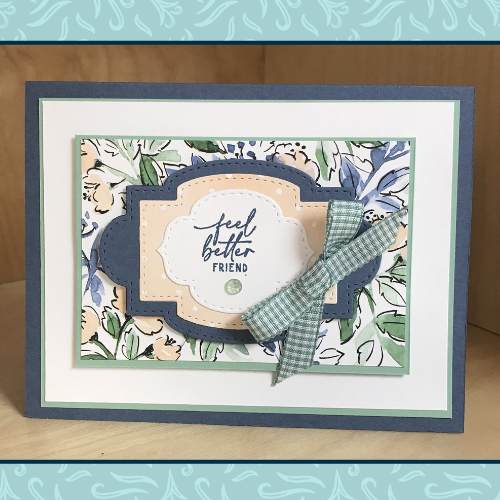 Creative Card Making
Thursday, March 16 ~ 6:30pm to 8:30pm
Join us in Virginia's House as we gather for a fun evening making creative cards with that personal touch.  Students will receive all the support and inspiration needed to make beautiful cards with plenty of options for individual creativity. Come and enjoy creating together! 
March: Celebrate spring by creating five cards featuring Spring, Easter, thinking of you, get well, and birthdays. No experience is needed. All supplies are included.
Community Instructors: Pat Szymanowski & Patricia Piper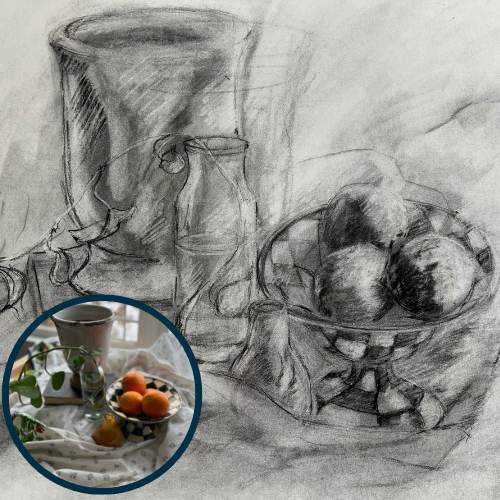 Drawing: Spring Still Life
Mondays, March 13, 20, 27 ~ 10am to 11:30am
Enjoy exploring and improving your drawing skills in this new series class. Students will draw from a spring-inspired still life and be introduced to "subtractive drawing". This technique begins by applying a layer of charcoal all over the paper with a chamois cloth. The student then uses erasers to subtract value to make their sketch of the still life. Charcoal is then added to define the objects and add value. The result produces an image that uses the full range of value to create form and a sense of depth.
Students need to bring the following supplies: Vine Charcoal (Medium, Hard); Willow Vine Charcoal (Soft); Charcoal Pencil Set; Kneeded Eraser; Sketch Book ( 8"x10" or larger)
Community Instructors: Elyse Simko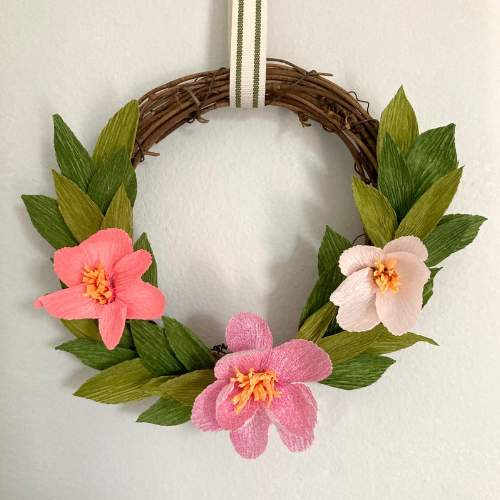 Paper Flower Mini Wreath
Friday, March 17 ~ 2pm to 4pm
Celebrate spring by creating a wreath out of handmade crepe paper flowers. Paper flowers make wonderful long-lasting seasonal decor. Students will learn the process of cutting and assembling flowers, choosing from a variety of crepe paper colors to create their own unique floral design. All materials included to make one 6" wreath.
Community Instructors: Ellen Seeburger
Paper Marbling
Monday, March 27 ~ 6pm to 8pm
Learn to create your own colorful marbled paper. Paper marbling involves floating ink in a tub of water, using tools to create a pattern, and dipping paper over the surface to capture a design. Students will explore this technique to make at least five sheets of beautiful paper of their own while learning a bit of the history of paper marbling and getting inspired to use their art at home. All supplies will be provided.
Finished marbled papers will be left at 577 to dry, and students may come back to pick-up projects during the Welcome Center open hours or by appointment.
*Please note: Participants aged 12 to 17 are welcome to register but must attend class with a registered adult guardian.
577 Staff Instructor: Avery Bohman, Program Intern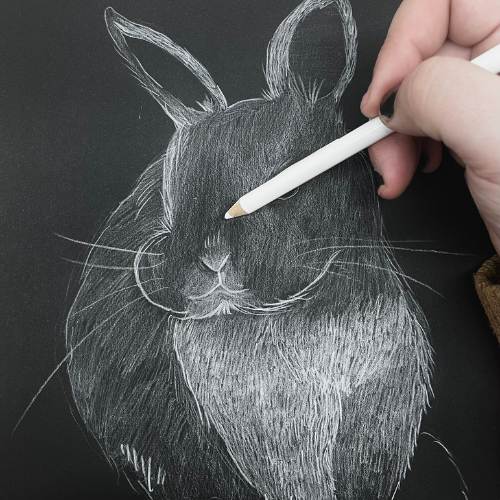 Drawing in Charcoal: Bunnies
Tuesday, March 28 ~ 1pm to 3pm
Come and enjoy this new class, perfect for beginners or anyone interested in a fresh approach to drawing. Students will use white and black charcoal to draw a white bunny on black paper. Through close attention to details and observation of highlights and shadows, students will be guided to create a unique image with this fun process.
All supplies provided for students to complete and take home an 8.5″ X 11″ drawing
577 Staff Instructor: Isabelle Tucker, Program Assistant & Professional Artist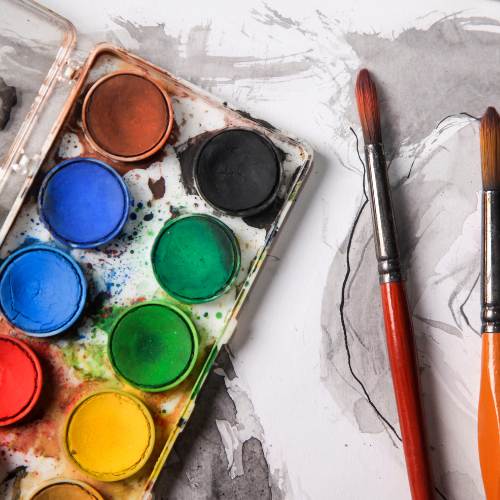 Watercolor: Exploring Abstracts and Color
Friday, March 31 ~ 2pm to 4pm
Explore the beauty of watercolor with a variety of painting and mixed media techniques in a relaxed and supportive class. A perfect entry point for beginners yet informative enough for intermediate painters, we'll discuss basic color theory, composition, and mixed media while working to create a soothing abstract painting using your favorite shapes and color palette.
Students will complete their painting by layering their image with playful marks and interesting textures as they experiment with oil pastels, markers, colored pencils, and more. Completed paintings will be 8.5" x 11" –great for framing as is, or for use in other projects.
577 Staff Instructor: Connie Stose, Program Manager & Professional Artist
Class Locations & Parking Map
Signed up for a class and need help finding your classroom location and parking? Each class description lists its location. Click the button below to view a full map of the grounds and buildings with two lots available for easy and convenient parking. 
Cancellation & Refund Policy
Because space is limited, we rely on you to register for classes thoughtfully. Please help us continue to offer these wonderful classes as affordably as possible by adhering to the following registration, cancellation, and refund policies.
Photos and videos may be taken during 577 classes and events for use on our website and other relevant media outlets and your attendance constitutes consent. View the full policy below including how you can opt-out of this release.