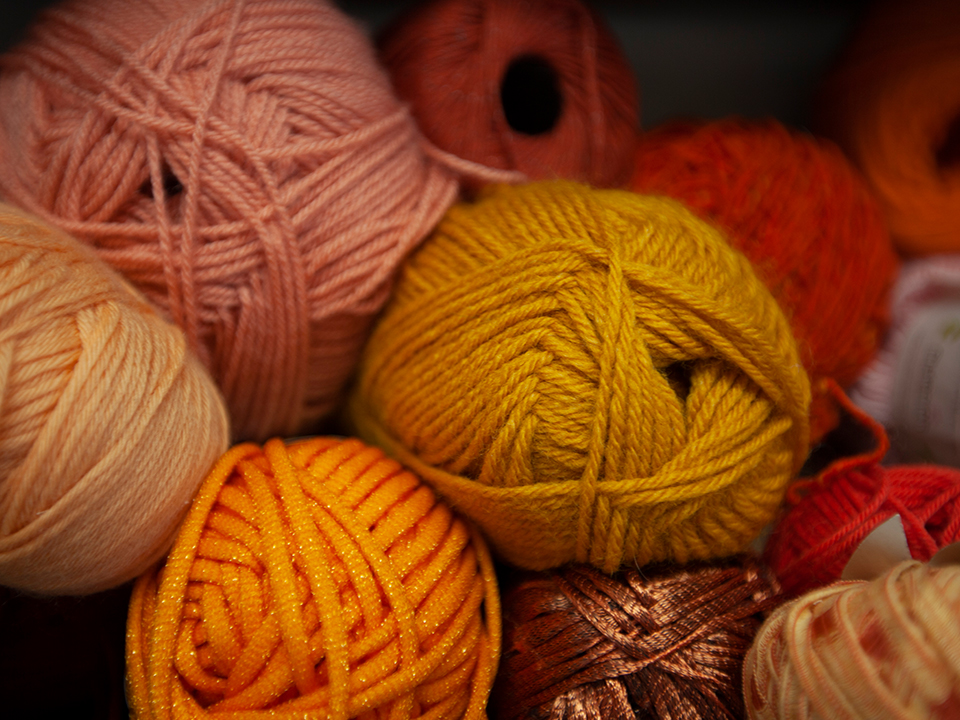 Find inspiration for your fiber art in small group classes taught by skilled hobbyists to professionals who have a passion for fostering creativity in fiber art. Classes for beginners include topics such as fundamental sewing skills, crochet, and embroidery. More experienced students can build on their skills with classes on visible mending, machine sewing, basket weaving, and more. Classes are taught in the Cottage and House and vary each month.
Learn to Weave
Saturday, March 25 ~ 1pm to 4pm
Explore the wonderful world of weaving and learn to use a frame loom to make a wall hanging. The focus of this class is for students to play with yarn and explore the ways texture and color can be incorporated into a weaving structure in a modern way.
Students will learn how to create a design and select a color palette, and then practice hand-weaving techniques including plain weave, rya knots, and soumak.

All materials are provided to create a woven wall hanging and frame looms will be available for use during class.
Community Instructor: Ellen Seeburger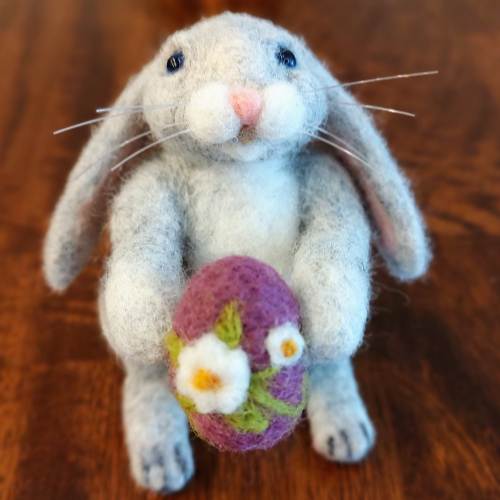 Needle Felted Spring Bunny
Sunday, March 26, 12:30pm to 4:30pm
Simple enough for beginners and fun enough for felting enthusiasts, this class will create an adorable, felted 3D bunny, perfect for your seasonal décor or to give as a gift. Students will receive lots of guidance and all the tools and wool needed to complete this project during class.

Kit includes: Merino wool, glass eyes, felting mat, 5 different sized needles, awl, leather finger guards, and printed project diagram.
Community Instructor: Iva Jean Kristek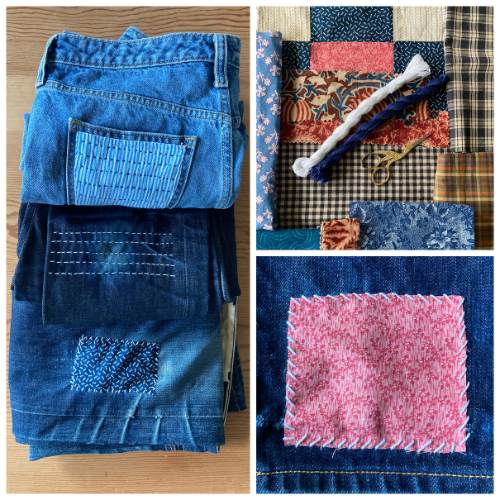 Visible Mending
Wednesday, April 5 ~ 5:30pm to 7:30pm
Breathe new life into a favorite piece of denim clothing while learning the art of visible mending. Visible mending takes an ornamental approach to patching or repairing an item. Instead of trying to hide an area where the item is damaged, the goal is to highlight imperfections creatively, using hand-stitching techniques and colorful fabric patches. It is a sustainable way to prolong the life of well-loved clothes or just to embellish your clothes for fun.

Students will learn the basics of this repair technique by creating a sampler on a piece of denim and are encouraged to bring a piece of denim clothing from home to begin mending in class. No prior hand-sewing experience is required. All supplies are included. Students will take home a needle, thread, and fabric for patches for future mending projects. 
Community Instructor: Ellen Seeburger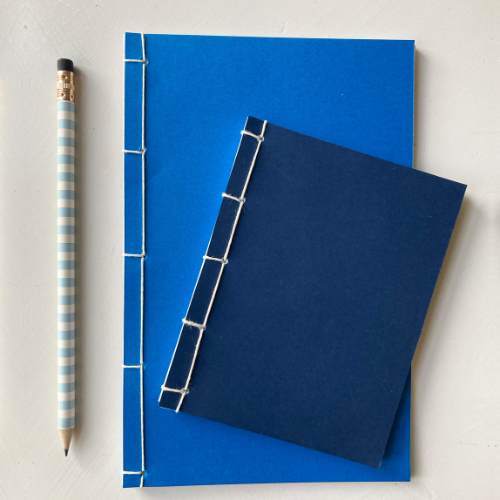 Handmade Books: Japanese Stab Binding
Wednesday, April 12 ~ 5:30pm to 7:30pm
Explore the technique of Japanese Stab Binding to create a softcover book. This binding technique is a great introduction to the world of handmade books and involves folding paper, puncturing it, and then hand sewing it with waxed thread. The best part of the process is that is can be customized, making it perfect for artists or writers looking to make their own journals or portable sketchbooks.

No sewing experience is required. All materials included.
Community Instructor: Ellen Seeburger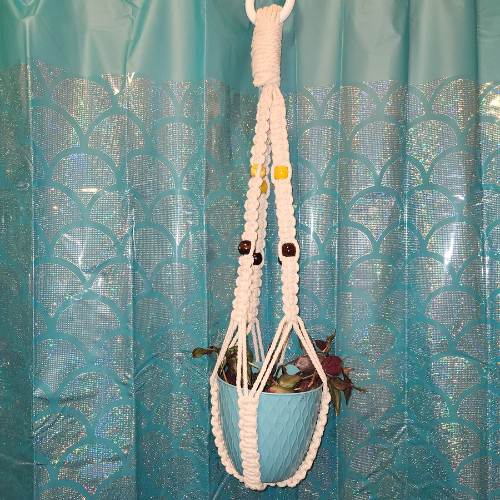 Macrame Plant Hanger
Thursday, April 13 ~ 10am to 12pm
If you can tie your shoes, you can learn macrame! Bring a little of the outdoors inside by learning to make a beautiful plant hanger utilizing only three types of knots. Please bring sharp fabric scissors. 
The overall length of the hanger is 28 inches. It will hold a 4 to 10 inch pot. (Plants and pot not included.)

All other supplies are included. No experience is required. 
Community Instructor: Sherry Kertesz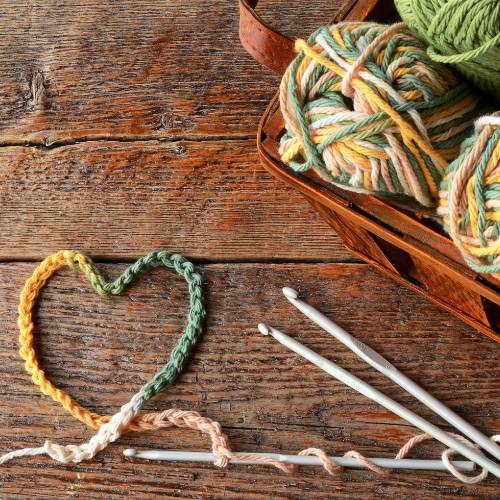 Intro to Crochet
Monday, April 17 ~ 6pm to 8:30pm
Whether you need a refresher or you've never picked up a hook before, this is the class for you! Students will focus on learning how to tie a slip knot, how to chain stitch (the foundation of crochet), and the single crochet stitch. 
Students will begin by choosing their project, yarn color, and the correct sized hook. Pattern options: Washcloth, Straight Scarf, or Baby Blanket
Please Note: Students ages 12 to 15 are welcome but must be accompanied by a parent. Students ages 16 to 17 may participate without a parent.
All supplies included. No experience is necessary.
Community Instructor: Annie Johnson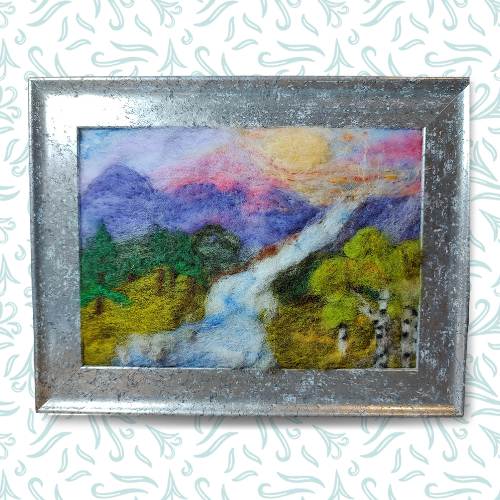 Needle Felting: Painting with Wool
Friday, April 21 ~ 2pm to 5pm
Join us for a relaxing afternoon making a 2-dimensional "painted" felted wool landscape. Completed projects will be 5" x 7". Students will have several samples to choose from or can customize their image with guidance from the instructor.
All supplies and tools are provided. Each student kit includes: Merino wool, a picture frame, a felting mat, five different-sized needles, an awl, leather finger guards, and a printed project diagram.
Community Instructor: Iva Jean Kristek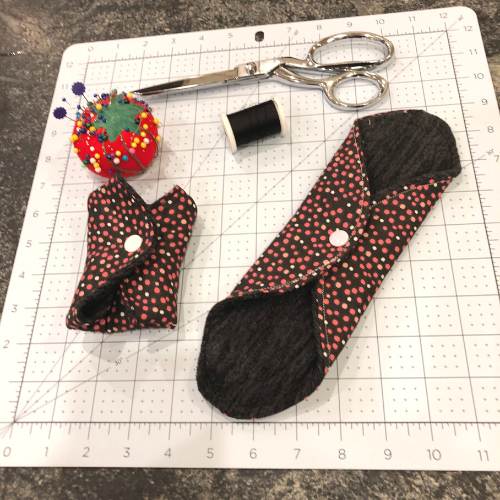 Sewing: Reusable Hygiene Supplies
Saturday, April 22 ~ 9am to 11am
Learn to sew a project that helps the planet and are needed by others: reusable feminine hygiene supplies.
Using the design for a reusable cloth menstrual pad from the Pachamama Project, participants* will learn and practice basic sewing techniques:
• Understanding and using sewing patterns
• Cutting with rotary cutters, pinking shears, and sewing scissors
• Cloth menstrual pad engineering
• Machine sewing in a straight line and around curves
• Attaching KAM snaps
Participants will leave with the written instructions, the sewing pattern, at least one completed pad, and materials to construct at least one more pad at home.
*Teens and pre-teens are welcome to participate if their caregiver also registers and attends with them.
All materials and tools for the class will be provided.
577 Instructor: Heather Gallant, Executive Director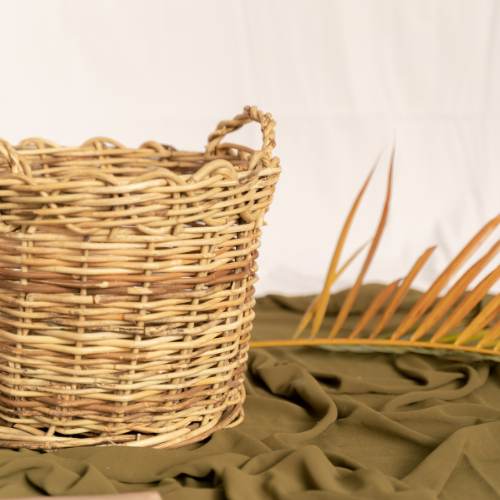 Basket Weaving 101
Saturday, April 22 ~ 1pm to 4pm
Simple, yet elegant, the Simple Gift Basket is easy to make. Students will learn the basics of weaving, shaping and finishing a basket. Each student should be able to complete their 5" x 6" basket during class so it is ready to take home. Filled with your favorite cookies or candy, the Simple Gift Basket makes a special gift for family and friends, and is the perfect thank you for a child's teacher or your favorite hostess.
Each student will need to bring the following to class:
• ruler
• pencil
• pruning/garden shears (not scissors)
• small, narrow screwdriver, flat or philips is fine
• 10-12 small clamps or clothespins
• small empty non-aerosol spray bottle, around 8 oz will do
• 5-gallon bucket
All other materials provided.
Community Instructor: Brenda Allison-Watson
Class Locations & Parking Map
Signed up for a class and need help finding your classroom location and parking? Each class description lists its location. Click the button below to view a full map of the grounds and buildings with two lots available for easy and convenient parking.
Cancellation & Refund Policy
Because space is limited, we rely on you to register for classes thoughtfully. Please help us continue to offer these wonderful classes as affordably as possible by adhering to the following registration, cancellation, and refund policies.
Photos and videos may be taken during 577 classes and events for use on our website and other relevant media outlets and your attendance constitutes consent. View the full policy below including how you can opt-out of this release.