Fresh from the garden with Samantha Day, 577 Organic Garden Horticulturist
Seasonal cooking is a sustainable approach to cooking with the added benefit of it being more flavorful and diverse. Cooking with freshly picked vegetables and fruits is my favorite – they could be from my garden, the farmer's market, or the grocery store. How I put those ingredients together for a meal often follows a routine but the recipes are definitely not traditional. Much to the amusement of my husband, if we ever decided to write a cookbook, it would probably defy all conventional measurements and ingredient combinations. We rarely use any tangible measurements, and we are constantly deviating from what ingredients "should" be in a certain dish.
However, amidst the culinary chaos in our kitchen, I've noticed a pattern in our family's cooking throughout the year. Allow me to share some highlights and perhaps inspire you to try something new. But really what I hope is that you'll share some recipes with us in return because I'm always looking to try something new!
SPRING
I should probably start with Spring because it is the freshest in my memory, pardon the pun.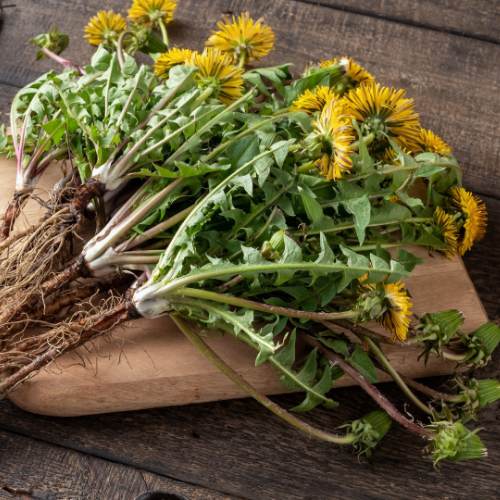 Every Spring I get a little overly enthusiastic to start plucking things that are tender and green and full of life around the dormant garden. With a mountain of tortilla chips on the side, one of my go-to recipes is sprouted chickpea hummus. The recipe is simple: I gather dandelion greens in abundance, sprout the regular ol' $1.00 bags of dried chickpeas from the store, and then blend the greens in. Perfection.
Quiche and soup are also in rotation during spring. In addition to dandelions, I also look to harvest any overwintered herbs and winter weeds that I can find. This past spring, I was able to harvest hairy bittercress, dame's rocket leaves, wild onions, chickweed, bronze fennel shoots, oregano, sorrel, trout lily leaves and flowers, garlic mustard babies, and purple dead nettle in February and March. All of these herbs and weeds were found around the grounds at 577!
Once I collect a grocery bag or two of greens, I make a quiche or a cream-based pureed green soup. The soup is pretty straightforward: chop and cook the greens with some onions, add some broth, add cream (or coconut milk?), and a bunch of black pepper and other warming spices, maybe some parmesan cheese (measure with your heart)….then blend it up. So simple! It's delicious with toasted bread, and it honestly makes you feel a zing from all the nutrition. The quiche follows a routine crust recipe, with the cooked greens, mushrooms, and onions making a delicious filling. One of my tips for the filling is make sure the liquid drains out a bit. Once assembled, I pour the egg, cream, and cheese mixture over the filling until the pan is brimming with spring goodness.
SUMMER
By the time early Summer arrives, I bid farewell to the oven and the once tender greens, now a tad bitter.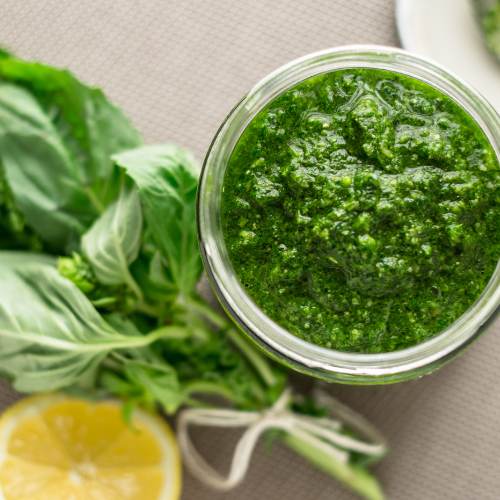 Basil takes center stage as it is one of the first things ready to harvest in the garden. It flourishes so well in the garden I find myself making pesto all summer long. To keep it affordable, I substitute pistachios for pricey pine nuts (why do they have to be so expensive?!), although walnuts work well too. I also like to use whatever dry cheese I find on discount in the grocery store. I'm not afraid to experiment with different oils or use whatever is on hand, but avocado oil tends to be the most common choice.
On one occasion, I tried making purslane pesto, which turned out decent but not my favorite. Purslane, a weed abundant in hot, dry areas of the garden, is incredibly nutritious and pairs wonderfully in salads (but maybe not a superb pesto). If you are looking for a pesto that packs a real punch, try a garlic mustard pesto. This one I would definitely try again. However, I would use it to flavor meats rather than pair it with pasta due to its robust taste.
Summertime also sparks my salad obsession. Strangely, I struggle to enjoy salad during the cold months, but as temperatures rise, my body craves it. Salad is an excellent source of minerals, one of the best that we can find in our modern diets.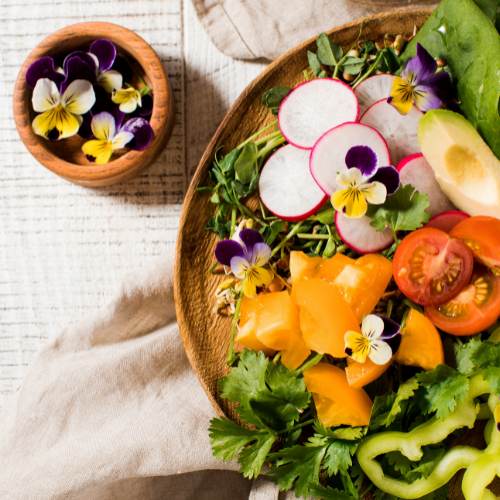 My bowl is a delightful medley of various lettuces with something spicy like arugula or mustard greens, add edible flowers (nasturtiums or johnny jump ups) for something pretty, incorporate pickled ingredients such as kimchi or pickled red onions, sprinkle in nuts like sunflower or pumpkin seeds, include a protein element like grilled tofu or smoked salmon, add a touch of sweetness with pomegranate (I can't stress enough how pomegranate is the absolute best salad ingredient), and dress it all with balsamic vinegar and a good oil. These deluxe salads grace my table for a few months before hibernating for the remainder of the year.
As late summer arrives, our garden produces an abundance of vegetables, prompting us to find creative ways to incorporate them into meals. Succotash becomes a go-to option, traditionally made with tomatoes, corn, beans, and squash, but I often add green beans, peppers, onions, and whatever else I feel like adding to the mix. It's a perfect dish for utilizing surplus zucchini at barbecues. We also indulge in hearty veggie stir-fries with Asian-inspired sauces, ensuring no vegetable goes to waste.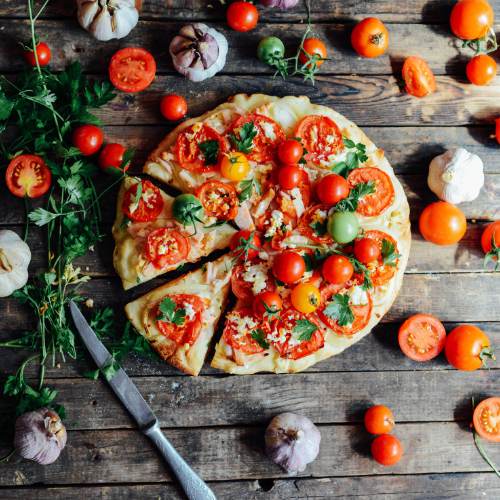 When the weather cools down, we are still in the garden harvesting. As we know, even in September, tomatoes are still abundant. One of my favorite things to make is homemade pizza. I make a batch of pizza crust and generously cover each crust with slices of those juicy, homegrown tomatoes. Admittedly, making pizzas from scratch requires quite a bit of effort, so it's usually a special treat reserved for occasions when we have guests over.
FALL
Fall holds a special place in my heart, especially when it comes to winter squash. I love all winter squash but I definitely have some favorites. Kabocha Squash could be my middle name. I kinda wish it was. I am obsessed with it. If I had the opportunity, I would grow fields and fields of it. The flesh is denser, nuttier, and sweeter than butternut squash. The way it cooks down has a great texture for baking. I've made kabocha squash pies for Thanksgiving, kabocha squash muffins, and I make a hearty kabocha squash-coconut milk curry. However, I must give credit to the versatile butternut squash, which holds its own in the winter squash lineup. It is honestly the most productive winter squash I've ever grown; those plants are amazing with how far they can climb and how many squashes they can produce.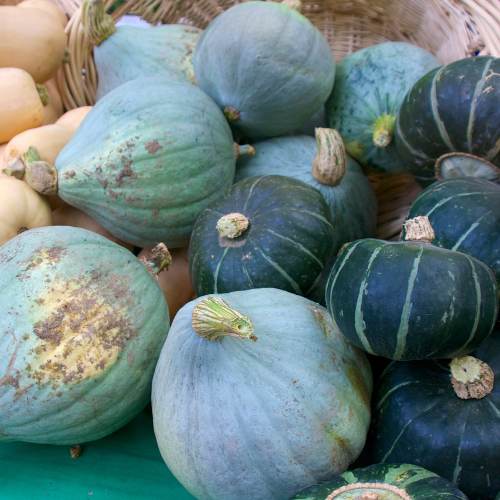 We've enjoyed butternut squash fries prepared in our air fryer, and my husband's culinary skills shine in his remarkable chicken marsala, where he uses pureed butternut squash as a pasta alternative in the base. Not to mention, he has spoiled me by enhancing traditional Colorado-style green chile with pureed butternut squash, lending a velvety texture and richness to the broth. And let's not forget about acorn squash, perfect for quick and satisfying weeknight roasting. Simply put, I have an unwavering love for all types of winter squash.
WINTER
During the winter months, soup takes center stage in our kitchen. Our signature dish has become whole-chicken soups prepared in the Instant Pot.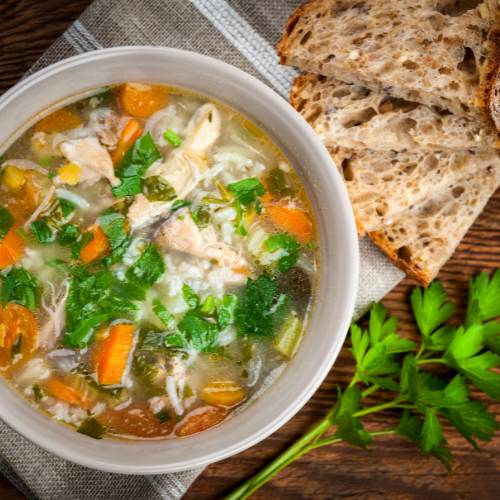 We opt for organic whole chickens from Costco, placing them in the Instant Pot along with an abundance of vegetables, predominantly root veggies, and a medley of aromatic spices. With the addition of water and a simple press of a button, the pot works its magic. This effortless method not only yields nourishing and flavorful soups but also allows us to benefit from the collagen in the chicken bones, the multitude of herbs and spices, and the preserved vitamins and minerals from the vegetables infused into the broth.
We savor these soul-warming soups throughout the winter, only to find ourselves longing for a break from soup come springtime.
That's a glimpse into my culinary journey throughout the year. I'd love to hear about your experiences in the kitchen as well! You can find me in the garden or greenhouses most workdays, but I would also love for you to send me your favorites recipes via email at sday@577foundation.org
P.S.: Today I was excited (and maybe a little nervous) because I was invited to visit 13abc Action News morning show The Nine. I talked about one of my favorite summer recipes – Live Culture Sauerkraut. It is such a simple recipe, versatile, and delicious.
Live Culture Sauerkraut
Ingredients Needed:
Green Cabbage
Sea Salt (2 teaspoons of salt per pound of cabbage)
Glass Jar
Directions:
Slice or dice the desired amount of cabbage. Massage and crunch the cabbage in a large bowl encouraging the juices to come out.
Transfer to the glass jar, evenly mix in the measured salt. You will need 2 teaspoons of salt per pound of cabbage.
As you transfer, make sure to smash the cabbage to the bottom of the jar, letting more juice out. (I use my fist to push it down.)
Use a plastic plate or lid with a weight to keep the cabbage submerged in the juices. If necessary, push the cabbage down with a clean fist once a day to resubmerge.
Leave the jar on your counter to ferment. Taste every couple of days. When it's at the sourness level you like, move it to the fridge and ENJOY!
Check out the video: https://www.13abc.com/video/2023/06/15/diy-sauerkraut-with-577-foundation/