Go Green Day 2023!
Save the Date! Celebrate sustainability with us on Saturday, April 29, during 577's Go Green Day!
For this special day, Virginia's House will be open to visitors from 10am to 4pm. Join us for a variety of free drop-in activities including a furoshiki tutorial, a make n' take craft perfect for Mother's Day, an exploration of watercolor paints, and more!
Plus! Grab those binoculars and find 577 staff member and amateur birder, Mike Welling, around the grounds and near the Bird Blind to ask all your birding questions.
Check out the full schedule of events below. The event is Rain or Shine!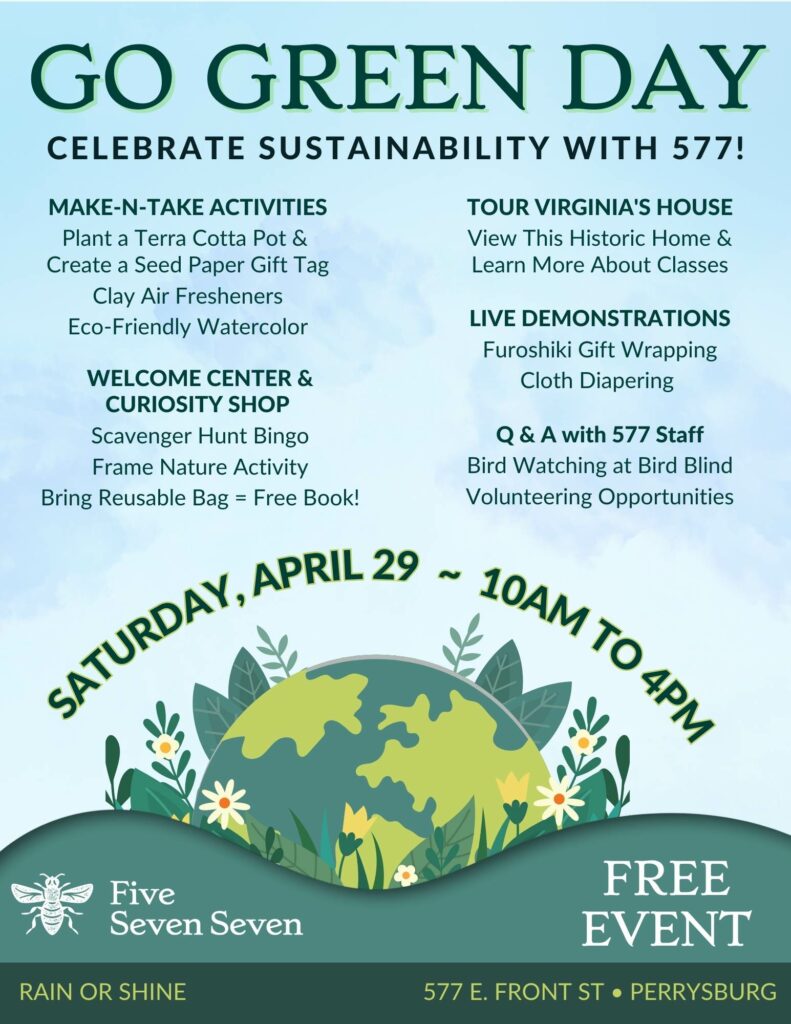 SCHEDULE OF EVENTS
10AM to 4PM: Get a glimpse of Virginia's House – the iconic large building at the north end of 577 – that has officially become a space for art, movement, gardening, and culinary classes. Walk through the open spaces – the Dining Room, Gray Room, Kitchen, and Sunroom. 577 staff will be available to answer questions about upcoming classes, meeting reservations, and volunteer opportunities.
10AM to 4PM: Visit the Welcome Center & Curiosity Shop. Browse the large selection of once-loved books, magazines, and art supplies. There is always something new to discover thanks to generous donations from the community. When you find that perfect item to take home, you save it from entering the waste stream (and save a little money by buying used!). Bonus! Bring a reusable bag for your goodies and get a FREE book with purchase (up to a $3 value).
10AM to 4PM: Nature Activities for Kids. Drop into the Welcome Center for these two fun nature activities! Scavenger Hunt Nature Bingo: Walk around the 577 grounds to complete a nature bingo card. Bring your finished bingo sheet back to the Welcome Center to receive a special Earth Month prize. Nature Frames: Take a unique photo using one of our nature frames. All you need is a camera to make magic!
10AM to 2PM: Stop by the pottery studio to make your own car (or closet) air freshener. 577 pottery instructors, Julie and Emily, will walk you through a few simple steps of cutting and decorating a small disc that you will leave at the studio so it can be fired in the kilns with pickup 10 to 14 days later. Add a string/ribbon and a few drops of your favorite essential oils for an all-natural air freshener. Limit one per person.
10AM to 3:30PM: Kids are invited to decorate a terra cotta pot and plant a 577 greenhouse-grown basil seedling perfect for the windowsill. Add a tag made of handmade seed paper for a Mother's Day gift. Activity will take place on the Outdoor Stage. The rain location will be in Virginia's House Garage Studio.
11AM to 3:30PM: Treat yourself to a fun make-and-take project that's easy on the eyes AND on Mother Earth, while learning about the eco-friendly medium of watercolor. Our paper will be reclaimed book pages that were destined for the landfill. You can choose to paint a pre-printed image of a Monarch Butterfly or Purple Coneflower or a creation of your own imagination. Activity location: Virginia's Dining Room.
10AM to 11:30AM: Join us in Virginia's Library to learn with 577's Executive Director, Heather Gallant, about furoshiki: the art of gift wrapping with fabric. Fabric and textiles come in such a wide range of patterns and textures that they make gorgeous, personalized gift wrap. Since it's more pliable than paper, fabric fits a wider range of gift shapes, and it's reusable for many years to come. You may already have what you need to get started right in your home.
1PM to 3:30PM: Interested in learning more about Cloth Diapering? Join us in Virginia's Library to ask Community Instructor Molly Chalfin about the different types of cloth diapers, the benefits of cloth diapering, and how to choose the best diaper for your budget and family's lifestyle. See and try out a wide range of diapers, covers, and accessories firsthand. The demo is presented in a nonjudgmental way with the goal of helping you enjoy diapering and your baby. It really is simpler than you think!