Written by Avery Bohman, 577 Program Intern
The most recognizable recycle symbol is probably the triangle symbol with the phrase "Reduce, Reuse, Recycle". The three Rs have been taught in schools for years and continue to be used to educate children and adults alike about simple environmental stewardship. Throughout my time at the University of Toledo, I had the privilege of studying sustainability as a minor. What I learned from many of my classes was there are actually five Rs, rather than just three. Did you know that?!
These FIVE Rs are: Refuse, Reduce, Reuse, Repurpose, and Recycle.
One of the more interesting and enlightening articles I have read in the past year was written by Achint Kalra for the website missionsustainability.org.
The author talks about the myths of recycling and discusses this triangle diagram which depicts recycling as the smallest portion at the bottom of the triangle. Recycling is important but maybe it should be our last resort. Check out this link to read the full article.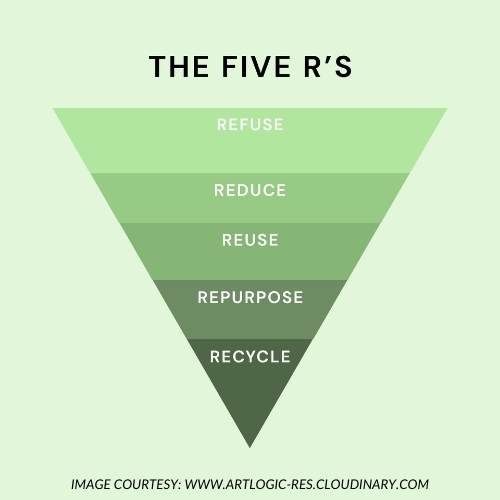 So, what are the definitions of each of these five Rs?
REFUSE
Refusing is one of the most beneficial practices when thinking about waste. Minimizing waste at one of the sources—consumerism—is extremely smart at tackling this issue.
Refusing products or items will promote less waste, which, in turn, is better for the environment. Say no to the free products if you truly don't need or want them, skip the single-use plastic straw, bring your own reusable bag and say no to plastic.
REDUCE
If cold-cut refusing is not an option for you, try reducing your consumption next. No one is perfect when it comes to these practices, but if we can all try and reduce what we buy and consume as much as we can, the earth will be less polluted and there will be less waste piled in our landfills.
Some simple examples could be reducing your consumption of to-go coffee cups from five to four per week, printing double-sided rather than single-sided, or reducing your packaging by buying in bulk.
REUSE
The next tier down is reusing. Reusing is a phenomenal approach when thinking about extending an item's lifecycle just a while longer, as well as the environmental benefits it can have.
Keeping unwanted plastics, metals, aluminum, and other materials out of the landfill and waterways as much as possible will keep the ecosystems and wildlife thriving.
Try reusing your plastic forks for more than one meal, using both sides of the paper for to-do lists and notes, or using your old toothbrush to clean your dirty shoes. Even better, invest in more high-quality reusable items like reusable water bottles, grocery bags, towels, and dryer balls (rather than dryer sheets)!
REPURPOSE
Repurposing, or upcycling, is a more creative and entertaining approach to reusing. If you can find a way to take something you have already used up and repurpose it into something else, you will find joy in the process of helping the planet and have a little fun at the same time!
Upcycling is the process of taking discarded objects or materials and turning them into functional works or pieces of art. For example, you could paint a tin can and turn it into a vase for a plant, turn old T-shirts into cleaning rags, makeup or nail polish remover pads, or cardboard milk cartons into bird feeders. The list goes on and on; there are many great ideas online.
RECYCLING
Recycling is actually the last resort of the five Rs. There are so many other things you can do before recycling. In fact, recycling is not always effective. Many of the items, specifically plastics, we think we are recycling don't end up recycled due to several issues. Recycling rules and policies often change per city or recycling facility, like the specific kinds of plastics that are allowed in the machines, and sometimes contaminants interfere with the process as well. Products labeled #1 and #2 recyclables (bottles, jugs, jars) are the most recyclable. #3-7 mixed recyclables are harder to recycle because facilities often have to pay to haul them away, and if a product is not clean, it is taken to a landfill anyway. However, it is still important to clean and recycle your plastic waste when possible. Just remember why the other four Rs come before recycling and why they are so important!

---
During the month of April and into May, I will be exploring ways we can repurpose and upcycle materials to create something maybe even a little better. Want to try? Check out my classes below!
Crafting with Upcycled Materials
Monday, April 10 ~ 10am to 12pm
Join us in celebrating Earth Month by creating three mini-upcycling projects made of plastic, aluminum, and cardboard. Upcycling is turning discarded objects or materials into something new and practical. In this class, students will learn creative ways to turn otherwise wasted materials into something new, useful, and fun. You will learn about the importance of reducing, reusing, and recycling while enjoying multiple relaxing crafts, and hopefully leaving with inspiration on ways to refresh your own old, unwanted belongings into new functional pieces or works of art. All materials provided. Click here for more info and to register.
Upcycling for Gardeners
Monday, May 8 ~ 6pm to 8pm
Create your own unique and functional pieces for your garden out of upcycled materials. Upcycling is turning discarded objects or materials into something new and functional. During this class, students will make an apron for their garden tools (no sewing needed), a garden kneeler, and a small wind chime. Students will also paint their own small tin can planter, perfect for adding a fun design or pop of color to the garden or even indoors on a windowsill. Learn how fun and useful upcycling can be and get creative with otherwise wasted materials. Students must bring their own pair of old jeans to cut up for the garden apron. This will ensure the aprons fit each person. All other materials will be provided, but students are welcome to bring their own sharp fabric scissors and reused objects to use in their wind chimes, such as old silverware, keys, or beads. Click here for more info and to register.
Acrylic Painting: Sustainable Abstracts
Tuesday, May 23 ~ 5:30pm to 7:30pm
Paint a beautiful one-of-a-kind abstract piece of art by sustainably using paints and exploring non-traditional painting tools. Students will have fun mixing and layering colors and will explore design by making interesting marks and patterns with reused materials such as bubble wrap, paper clips, egg cartons, and cardboard. Enjoy this class with a friend or family member, or come for some well-deserved creative self-care on your own. Each student will complete a painting on canvas or canvas board–sizes will vary depending on students choice of materials, approximately 12″ x 16″ to 20″ x 24″. No experience necessary. Click here for more info and to register.
---
Sources for this blog post:
https://www.pbs.org/newshour/show/your-recycling-is-not-always-being-recycled-heres-why
https://www.wusa9.com/article/news/verify/what-percent-of-your-recycling-goes-to-a-trash-landfill-fact-check-explained/65-eaae65b8-1b17-4e28-be4e-63ad7362c2d8