Say Hello to Avery!
Avery Bohman joined the 577 team in January as our Program Intern. She is an invaluable member of the education and outreach team. She can be found around the grounds installing the monthly StoryWalk®, answering questions in the Welcome Center and Curiosity Shop, moderating community classes, and she will be teaching a couple of classes herself.  
Learn a little more about Avery, in her own words:
Hi everyone! I am thrilled to be here at 577 and thankful for the opportunity. I recently graduated from the University of Toledo with a B.A. in English Creative Writing and a minor in sustainability. Reading and writing were always enjoyable for me growing up, but in my second or third semester of college, I realized I really wanted to study literature and language. Getting a degree out of it was really just a bonus. I enjoy writing about family, relationships, and the environment, and some of my current favorite books are Little Women by Louisa May Alcott, The Diving Bell and the Butterfly by Jean-Dominique Bauby, and Migrations by Charlotte McConaghy.

While at UToledo, I was also involved in a service organization that focused on serving the Toledo area, surrounding communities, and the nation. I am very passionate about nonprofit work and love creating a positive environment within my community. One of my favorite things to do is volunteer and see the difference I'm making in people's lives. Along with helping others, I am an avid environmentalist–always advocating for the protection of our ecosystems and ways to be more sustainable. I also enjoy traveling, being outdoors with friends and family, painting, rollerblading, and snuggling with my cats.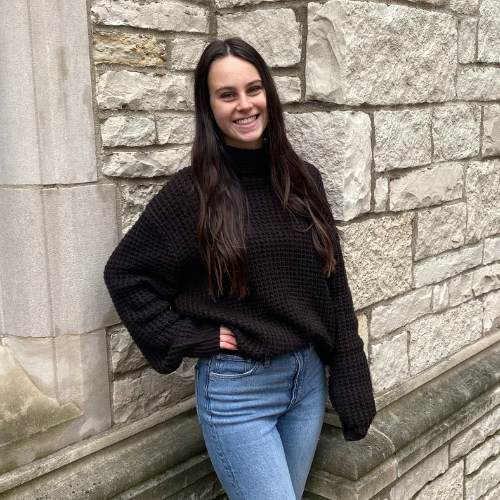 On March 20, Avery taught her first class ~ Blackout Poetry for Teens. She said it was a wonderful experience and she learned so much. Later this month, she will be teaching a class on Paper Marbling (class is full, waitlist is available).
When asked about teaching, she said, "These classes have been fun to plan and I'm super excited to share what I know. I can't wait to meet you all!"
In April, she will be teaching ~ Crafting with Upcycled Materials. Learn more about this class:
Crafting with Upcycled Materials
Monday, April 10, 10am to 12pm
Join us to celebrate Earth Month by creating three mini upcycling projects made of plastic, aluminum, and cardboard. Upcycling is turning discarded objects or materials into something new and practical. In this class, students will learn creative ways to turn otherwise wasted materials into something new, useful, and fun. You will learn about the importance of reducing, reusing, and recycling while enjoying multiple relaxing crafts, and hopefully leaving with inspiration on ways to refresh your own old, unwanted belongings into new functional pieces or works of art!
Students will make:
• Flower magnets from aluminum pull tabs
• Funky coasters from plastic grocery bags
• Colorful storage containers from cardboard oatmeal containers
All materials will be provided.
Please Note:
• Students ages 12 to 15 are welcome but must be accompanied by a parent.
• Students ages 16 to 17 may participate without a parent.
Interested in registering? CLICK HERE