577 offers two historic spaces, the Library in Virginia's House and the Cottage, to community organizations, schools, governmental organizations, and community-minded corporations for strategic planning, trainings, and retreats.
Because these spaces are shared for educational and community benefit, they are not available to be used for personal social gatherings like parties or showers.
---
Cottage
The Cottage is a cozy private meeting space for up to twelve people. It offers a meeting space around a large table, one bathroom, a kitchen, and one breakout room with comfortable furniture. This historic building is not currently wheelchair accessible due to a step up into the building and narrow doorways, as was typical for houses built circa 1914.
The Cottage is available to rent on Tuesdays and Thursdays as either a half-day (4 hours) or full-day (8 hours) rental.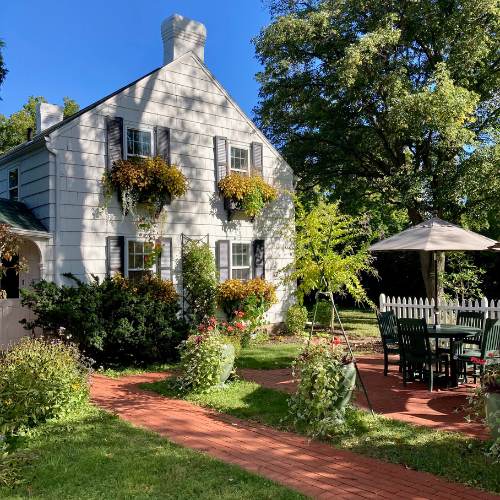 ---
Virginia's House ~ Library
The Library of Virginia's House is a semi-private meeting space that can accommodate up to twenty-five people. This room offers a relaxed meeting space with comfortable furniture for ten people, plus a large table that seats ten people (with five additional chairs optional). A pull-down AV screen and a cart on which you may place your laptop and projector are available. Nearby restrooms are available for use. This building is wheelchair accessible with a ramp.
The Library in Virginia's House is available to rent on Wednesday and Friday mornings (4-hour rental).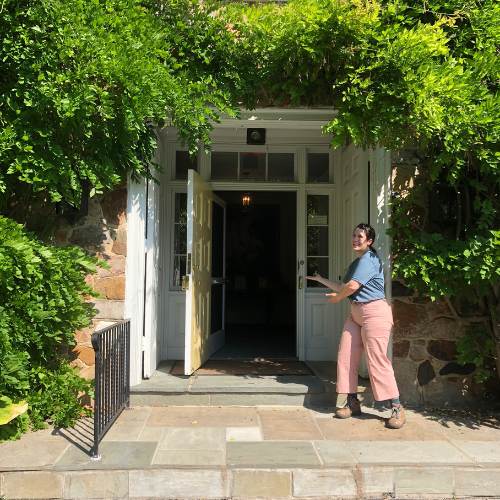 ---
For ease of use, a calendar of availability and all reservation requests can now be made online by clicking this link: RESERVATION REQUESTS
If you are a returning organization, you may notice a few changes in the availability and structure of reservations. This is a result of the time 577 took during the pandemic to evaluate its mission, programs, and services. The result of this evaluation was a reorientation and refocusing on what 577 was created to do:
"Open to all, 577 builds a creative, caring community through curiosity and lifelong learning."
The evaluation compelled us to rebalance where and how we offer educational programs that reinforce our mission, including offering classes and services in spaces that were previously used for meetings.
These changes are intended to:
Balance the programmatic demands on 577's beautiful, well-maintained spaces
Support 577's educational programs through funding from meeting reservations
Reinforce 577's primary charge: providing opportunities for experimentation and learning which are both instructive and enhance the participants' understanding of and appreciation for science, art, craft, history, culture, ecology, and the environment
A pamphlet has been created to explain the full extent of the changes including guidelines, FAQS, and directions on how to make requests online. You can review the full extent of the changes and a link to request online HERE.
COMING SOON: Information on reservations is currently listed under the Programs & Services page on our website. Look for a dedicated Reservations page on our website with full details including photos of the spaces and the answers to frequently asked questions.
---
Reservation requests are currently being accepted through July 31, 2023. If you are looking for a date between August 1 to December 31, 2023, those dates will be available beginning March 1. If you are looking for a date within the next 28 days, please contact us to check availability.
Reservations are on a first-come, first-served basis determined by the date and time of the request. A reservation is confirmed after full payment has been processed and the Rental Agreement has been signed.
Dates and times are subject to change based on the program calendar, with additional days added to the calendar. The best place to see those changes would be our website.
Questions? Contact Assistant Director of Education and Outreach Danielle Marino at dmarino@577foundation.org, or by phone at 419-874-4174.