Say Hello to Samantha!
Samantha Day joined the 577 team in November as our Organic Garden Horticulturist. She is the staff lead for the Community Gardening program, working alongside our gardeners to grow and develop 577's vegetable and experimental gardens, as well as running our food bank donations. As part of the properties team, she is responsible for managing the greenhouse, biodome and potting shed, and offering educational workshops and classes to the community throughout the year. We are so thrilled that Samantha has joined the 577 team and can't wait for you to get to know her!
Learn a little more about Samantha, in her own words:
Hi friends! I am really excited to be here with 577 and look forward to meeting you this Spring in the gardens. We moved here in November from Cheyenne, WY where I was working for the Cheyenne Botanic Gardens. I have lived out West for the last 10 years or so, moving around in Wyoming, Montana, New Mexico, and Colorado, but originally, I grew up on this side of the Mississippi.
I'm an army brat and my longest period living in one place was in Springfield, Virginia. Other states included NY, GA, KS, NC, OK. My degrees are in Environmental Science and Soil Science, and I have worked in organic agriculture for about eight years, ranging from production vegetable farms, to permaculture, to backyard gardens, and one year on a fruit and nut tree orchard. I spent three years living in Nepal starting in 2015; I learned a lot about traditional subsistence farming and integrated "food forest"-style agriculture during my time there. I still have so much to learn!
My husband and I love to spend our time outside, biking, walking, and gardening. My son is 2 years old and a ton of fun. We have a blue-tick coonhound named Buckle who is a very athletic goofball. I look forward to seeing you around, learning from you, seeing you in classes, and hearing your ideas!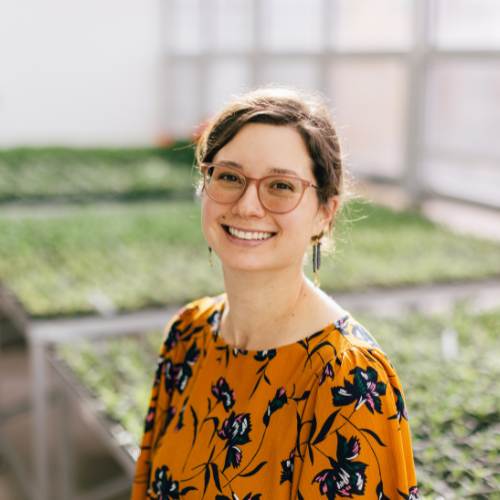 ---
Samantha would love to share her passion for nature and gardening in her upcoming class:
Discover Your Landscape History
Tuesday, February 28 ~ 6pm to 7:30pm
Did you know the story of the land under your feet might be impacting your home's landscaping? Join us for a fascinating look at the amazing history of our local soil and how it can affect your garden plot or backyard. What happened way back when the Maumee River flowed in the other direction? What about the ancient ice sheets so heavy they caused the tipping of the North American land mass? From glaciers to gardens, we'll discover how to work with this history in your own yard by getting hands-on in soil, investigating maps, and learning about geomorphology.
In-Person Class: Register
Online Class: Register