The Log House at 577
When you visit this corner at 577, you may feel like you've been transported back in time when you see this log house. But wait – why is there a log house at the 577 Foundation? And how did it get here?
Our founder and benefactor, Virginia Secor Stranahan, believed in serendipity: happy accidents that happen to come your way. When she had the chance to receive one of the oldest log houses in Wood County, Ohio, Virginia saw serendipity. With anticipation and excitement, she accepted the opportunity to do some good for the community with a living, hands-on educational tool.
When Virginia was offered this log house, it was situated a few miles east of 577 on a bluff overlooking the Maumee River, known as Jennison's Bend. Local legend has it the home was built around 1804 by a pioneer named Woolfert. Mr. Woolfert built the house himself, chopping down white ash trees to make the logs and using black walnut for the pegs.
Mr. Woolfert built this house as one big room with no upstairs, no windows, and a dirt floor. He constructed it with simple tools such as axes and froes. Houses like this could have been built in about 2 days, and are like Lincoln Log toys that can be set up, taken apart, and set up again. This made them mobile for pioneers to live in one spot for a while and then move on to a new location. You might be wondering why we are calling it a log house, rather than a log cabin. On log houses, the logs have been squared off before building the house. The timbers of a log cabin are kept round.
The log house changed owners and occupants many times after Mr. Woolfert lived there. Victor Jennison settled in Perrysburg around 1818 and bought the cabin in 1829. He lived there with his wife and 9 children. Can you imagine all those people living in just one room of this log house?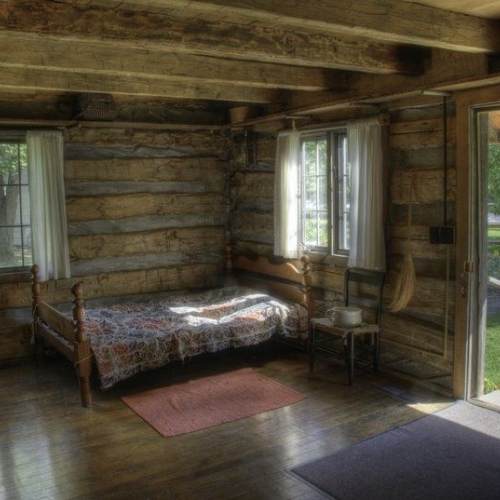 Reverend George Adams, a local minister, called it home in the 1870's. The Marriot family moved in around the 1880s, and nine children were born in the home between 1885 and 1904.
In the 1930's, Reverend Adams' grandson, George Roose, moved in. Mr. Roose was a land developer who helped to build the amusement park Cedar Point. He and his wife, Eleanor, lived in the log home while waiting for their estate to be built. Once their own home was complete, they used it as a guest house.
At some point during the mid- to late- 1900s, the log house was remodeled: The mud mortar was replaced with cement to make it a more insulated, permanent building. A modest upper level was added to create one large room for sleeping, and a kitchenette was created downstairs. The fireplace was rebuilt with brick.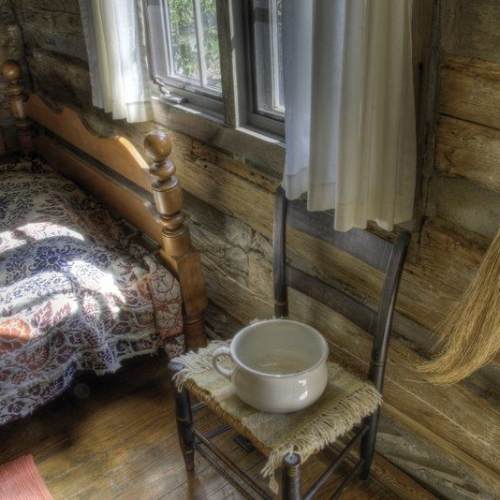 In the spring of 1995, the log house belonged to Gayla Owen. Her grandfather, George Davis, was born in the cabin many years before. Ms. Owens offered to donate it to Virginia and the recently-created 577 Foundation. Virginia gladly accepted, saying, "We feel it is an important part of Perrysburg history and hope by having it here it will provide opportunities for the public to be exposed to early Wood County history."
The move from Jennison's bend to The 577 Foundation took approximately two and a half hours. Virginia led the caravan in her golf cart down a very busy state route! She was followed by police cars and an enormous flatbed truck pulling the log house.
When it arrived at 577, the log house was placed on a new foundation to match its footprint of 26 feet by 28 feet. Then the staff and volunteers set to work restoring it to be closer to its original form.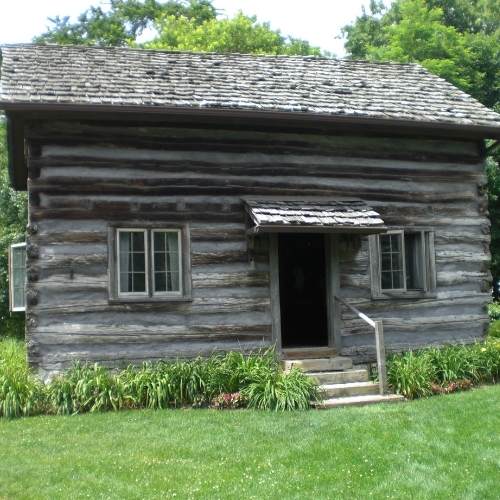 The kitchenette was removed and the brick fireplace was replaced with flagstone. Community members donated antique furnishings so visitors would feel like they were stepping into an authentic, typical family home around the 1850's. Favorite items include a crib, a rope bed, a chamber pot, and a bear skin.
Because grocery stores were scarce in the 1850s, families would have used raised bed gardening. Each year we plant gardens right outside the log house. A family would've grown fresh vegetables near the house and eat them right away. These "kitchen gardens" were tended by women and smaller children.
You can probably tell that two small gardens wouldn't produce enough food for a family of eleven! Families in the 1800s would have had a larger field nearby where they'd grow items to be canned or dried to be eaten during the winter. These fields would be tended by men and older boys.
Each year, we plant the gardens right outside the Log House with heirloom vegetables to demonstrate what may have grown here in the 1800s. Heirloom vegetables are varieties that have been passed down from generation to generation for at least 50 years.
We've heard many tall tales over the years about the Log House that may or may not be true. Was it once the backdrop of a black and white film? Did it have a role in a secret bootleg operation during Prohibition in the 1930s? Was there ever plumbing inside? Is it haunted by a ghost?
While we don't know for sure, what we do know is that we're grateful to Virginia to have this piece of history at 577 for everyone to experience.